Review: Blueberry Toast (Soho Theatre)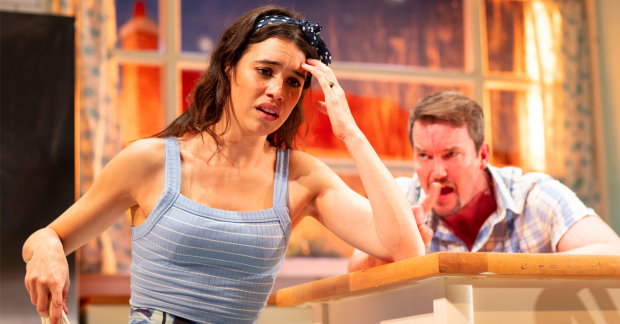 Barb has had enough. Enough of the gaslighting. Enough of the patronising put-downs. Enough of the flagrant infidelity. Walt, Barb's smug, self-satisfied husband, doesn't realise it when he wakes up this fine Sunday morning, but today is the day he will finally be getting his just desserts.
There are plenty of enjoyable moments as Barb and Walt's relationship spirals from tense faux-civility to outrageously gory climax in this black comedy from American writer Mary Laws. Gala Gordon as Barb and Gareth David-Lloyd as Walt each have some cracking lines, the insults they hurl at each other so at odds with the gleam of their suburban lives (hats off to Anthony Lamble's sitcom-perfect set and costumes) that every swear word prompts a raucous laugh.
The pauses between these increasingly aggressive bouts, in which Barb and Walt attempt to tamp down their feelings and maintain their happily-ever-after appearance, are rich in humour too. Gordon simmers with resentment as she silently prepares the titular toast, requested but unwanted, the spark that lights the fuse. David-Lloyd, meanwhile, has some gloriously barmy speeches, comparing himself favourably to Jesus and expounding on the eternal damnation of "anyone with an 'ist'".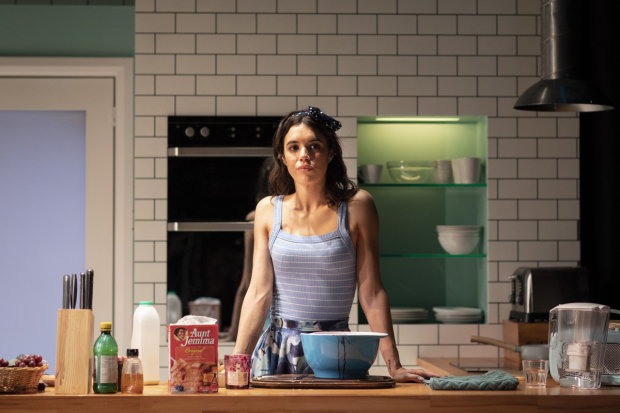 The problem is that while it's obvious why this couple hate each other, it's far harder to work out what brought them together in the first place. Without that crucial ingredient, director Steve Marmion leaves us with caricatures rather than characters, and any point Laws is seeking to make is lost in a whirl of snide remarks and surreal violence.
The regular interruptions from the couple's children, Jack and Jill, as they arrive to perform the four acts of a play they have written, steal the show. Adults playing children, Adrianna Bertola and Matt Barkley strike exactly the right balance of naivety and knowingness, piercing the tension of their parents' interactions again and again. The children's play is brilliantly surreal, employing the unlikely storytelling tools of yodelling and street dance to present a broad allegory on the way human relationships decay and the pointlessness of existence. Bertola, in particular, is magnetic to watch, switching seamlessly between eager-to-please, daddy-obsessed little girl and a more grown-up version of Jill that suggests the woman she will one day become.
Lamble's set and the lighting and sound designs that Rob Casey and Mic Pool layer on top of it create a persuasively stifling and febrile atmosphere for Laws' drama. It's just a shame that Marmion's production never really coalesces, leaving us with atmosphere, humour and little else.