Review: One Green Bottle (Soho Theatre)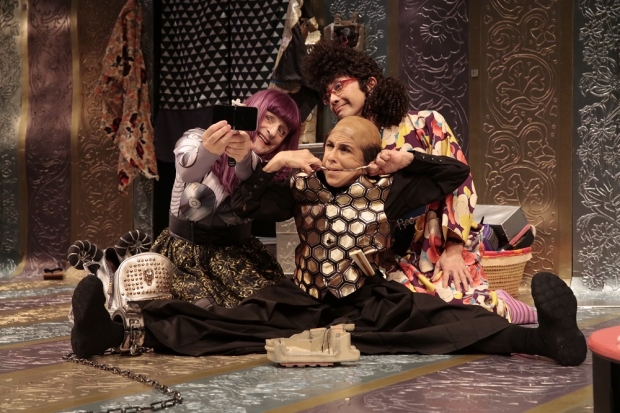 This is something strange and delightful. Hideki Noda is one of Japan's foremost theatre practitioners, and this wildly funny, subtly unsettling piece is a tangy mixture of screwball comedy, ribald social commentary and existential angst, with elements of traditional Japanese Noh and Kabuki theatre. If it's not always entirely clear exactly where Noda is taking you, it's a hugely enjoyable journey to get there, and the whole crazy, life-affirming show isn't like anything you'll see currently on any other London stage.
As well as writing the original Japanese version of One Green Bottle, Noda also directs – manically – and performs – winningly. He's the leading lady in fact: all got up like a demented, kimono-clad poodle in a curly fright wig and a pair of hot pink specs, he plays disgruntled housewife Boo, tied to the household but bored out of her mind and longing to escape to see her favourite boy band. Meanwhile, Princess the dog is going to have a litter of puppies at any moment and Boo's husband, hammy classical actor Bo, and Pickle – their strident, über-trendy daughter – are both determined to get out and leave her to it. Noda is a natural clown: quirky, athletic, grotesque yet oddly sympathetic. Boo may be an utterly over-the-top creation but she is rooted, however tenuously, in reality and that is what makes her so hilarious and endearing.
The same is true of Kathryn Hunter's weird but wonderful performance as pompous but frequently bewildered Bo. It says much for Hunter's chameleonic ability to switch gender that the friend I was with didn't even realise she'd been watching a woman until after the curtain call.
Of course their pouty, petulant fashionista daughter is played by a middle-aged man (Glyn Pritchard, fabulous, stomping about with a violet bangs wig, astonishing makeup and an expression of ongoing disdain for everything bar her mobile phone and toy sheep collection.) At one point Bo says of their offspring "I know she's our daughter but I have to admit I actually find her quite terrifying". Pritchard's hilariously fierce performance endorses that.
They are a glorious trio; this is clowning of the highest order, but never quite loses sight of the pain that is at the heart of a deeply dysfunctional family.
Will Sharpe's witty, occasionally potty-mouthed English adaptation sits somewhat incongruously alongside Denzaemon Tanaka XIII's traditional Japanese music, but that is half the fun. Similarly, Yukio Horio's gleaming set and Kodue Hibino's outrageous costumes skilfully juxtapose the traditional with a garish, Pop art sensibility, and there is inventive use of video imagery and doom-laden sound effects. It's almost a sensory overload.
Just when the high octane flouncing around and craziness threatens to become relentless, the piece darkens considerably: this odd little family find themselves chained together (literally) and cut off from the outside world by their own misguided actions. The innocuous "Ten Green Bottles" rhyme from whence the piece acquires its title takes on a chilling significance as the play draws to its bleak conclusion.
One Green Bottle is seventy-five minutes of eccentric, alarming, dark-hued fun that has much more on its mind than one might initially think.