The Little Big Things at @sohoplace – review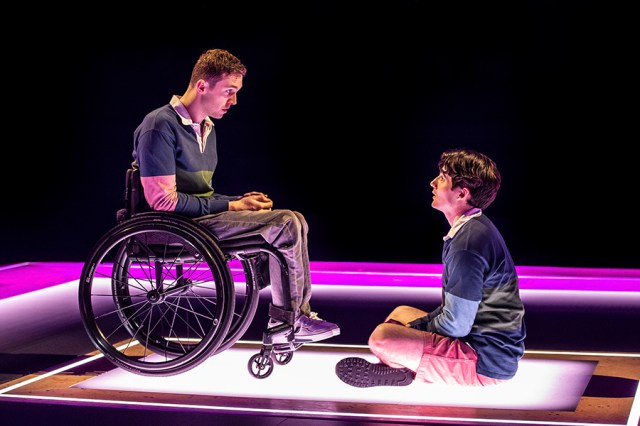 Regular attendees of London musicals might have thought that 2023 couldn't wring any more tears out of them following the lachrymose trifecta of Standing At The Sky's Edge, Benjamin Button and Next To Normal, but then they hadn't reckoned on The Little Big Things. This triumphant new musical, based on artist Henry Fraser's authentically inspirational memoir of the same name, is a real workout for the emotions. But it's also much more than that.
The basic story – promising rugby player Fraser was paralysed from the shoulders down following a freak accident while on holiday in Portugal, but goes on to find an unexpected talent as a painter, using a specially adapted brush manoeuvred by his mouth – is so remarkable it could only be true. This gives the musical an additional piquancy as it tries to make sense of the enormity of the effects of this event on Henry's life, but also accounts for its big-hearted humour and refreshing lack of pretension or mawkishness. Yes, the show is intensely moving, but the free-flowing tears are more of wonder and admiration than grief, and there's a catharsis that recalls Come From Away, another crowd-pleasing musical celebration of the best of humanity under difficult circumstances.
The thunderous score is a major factor in this: Nick Butcher and Tom Ling's tune-filled, exhilarating work occupies that sweet spot where pop, rock and folk compounds with theatrical bombast. Anybody who misses the Pasek and Paul (Dear Evan Hansen, The Greatest Showman) convention of a heartfelt, belty solo morphing into rousing, repetitious choruses will think all their Christmases have come at once here.
Structurally, the show is interesting, particularly in the first half where music runs under and alongside Joe White's salty, funny dialogue, before blooming almost imperceptibly into complete numbers, several of which don't have a defined ending to allow for applause. If the major songs in act two are more conventional, the joyous sailing number "Miles And Miles", the memorable "Guide You", where Henry discovers his artistic talent, and the earworm titular finale sound like the sort of instant classics to give "You Will Be Found" and "Waving Through A Window" a run for their money.
White's script divides the principal character between two actors, both of whom are onstage for most of the show's duration: Jonny Amies cavorts and spins winningly as Henry pre-accident while Ed Larkin, rivetingly present and magnetic, portrays him from the wheelchair, and serves as narrator. They're both terrific, but Larkin is unforgettable, charting with economy, laser sharp watchfulness and a total absence of sentimentality, Fraser's journey from rage and confusion to a wondrous sense of hope and determination.
One of the things that makes The Little Big Things, and indeed Luke Sheppard's visionary, career-best production, so special is that it doesn't just represent disability on stage, it actively celebrates it, which feels like a beautiful, uplifting thing. Nowhere is this better demonstrated than by the show-stealing performance of rising star Amy Trigg as Agnes, the physiotherapist instrumental in turning Henry's life around. Agnes is in a wheelchair following a devastating car accident but has carved out a new life as a health professional, has a sexy husband, and a ferociously 'can-do' attitude matched only by her compassion. Trigg makes her witty, horny, bossy, completely inspiring and about as far removed from being a victim as it's possible to imagine. She reinforces the point that when something life changing happens, a refocused set of expectations is essential for survival.
Mark Smith's astonishing choreography is equally celebratory, fusing muscular contemporary dance with sign language to inventive, theatrically potent effect, and including the wheelchair users in the company with a fluid, entrancing grace. Smith's partner is Stephen Mear, whose work in La Cage Aux Folles is currently delighting Regent's Park audiences; come awards season, we could have the interesting situation of husband competing with husband for this year's Best Choreography prizes.
Linzi Hateley is the beating heart of the piece as Fraser's mother, an apparently ordinary woman, finding a strength within herself that turns out to be truly extraordinary, her beguiling eccentricities worn down by life but never defeated. Opposite her, Alasdair Harvey is no less compelling, investing the father with an entirely plausible mixture of anguish, helplessness and quiet authority. For all the pain, they both have sublime comic moments, and sing gloriously.
There's wonderful work too from Malinda Parris as a Stoke Mandeville doctor with a floor-shaking belt and Gracie McGonigal as a young woman Henry is besotted with. Jamie Chatterton, Cleve September and Jordan Benjamin are likeable, distinctive presences as his sporty brothers. Benjamin in particular is deeply affecting as the youngest of the trio, the one who initially struggles most with Henry's new disability but who becomes his most staunch ally.
Sheppard's propulsive in-the-round staging, so engaging that it's practically immersive theatre, is magically realised: Luke Halls's video design and Howard Hudson's lighting flood the entire auditorium with gorgeous washes of colour then taper right down to a single point of focus, and are essential components in the show's movement. Colin Richmond's set is deceptively clever and features a reveal of Henry's paintings that takes the breath away. There's a hydraulic lift, bubbles that dissolve into powder on contact with hard surfaces, multi-coloured confetti cannons firing in all directions and the production even pays homage to the rapturous aerial ballet from the Billy Elliot stage musical, although by that point you may be sobbing too hard to make the immediate comparison. Crucially though, the tech, stunning as it is, never overwhelms the humanity, and the sense that when good people pull together they can achieve almost anything.
It isn't perfect – there's a family argument scene that feels a little shoe-horned in and is never properly resolved, a couple of the jokes are a bit obvious, and there's probably one too many upbeat company numbers than there really needs to be – but it works: it's a truly great time in the theatre. As to the question of whether The Little Big Things could make the transatlantic journey to Broadway before conquering other international markets, it's surely more a case of "when" rather than "if". It's universal, hopeful, involving and I really can't wait to see it again.