Review: Falstaff (Royal Opera House)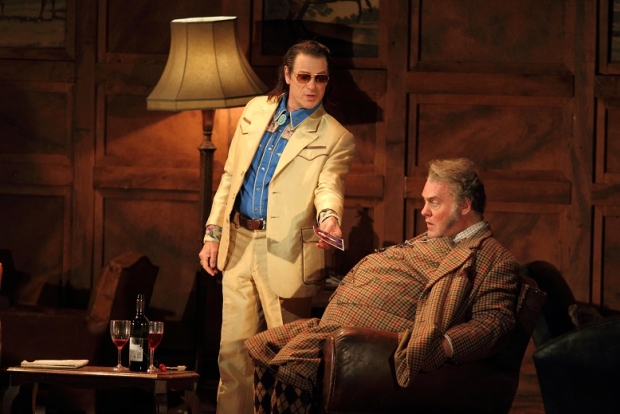 The summer's second Falstaff is every bit as riproaring as Garsington's beautifully judged account. It's just a lot bigger. Robert Carsen's 2012 production has returned for the third time, and the first salute goes to Daniel Dooner for his pitch-perfect revival of an intricate comic confection. Nicola Luisotti and the ROH Orchestra join him at the top table of this 1950s update for a prime serving of English high tea, Italian style.
The casting is straight from the sweet trolley. Ana Maria Martinez and Marie-Nicole Lemieux reprise their Alice Ford and Mistress Quickly from the first incarnation; if anything their comic timing is even sharper six years on. Both are in fine vocal fettle, especially Martinez who eats up Verdi's grateful writing for her full-throated soprano register.
If they are the cream scones, then Frédéric Antoun (Fenton) and Anna Prohaska (Nannetta) are the petits fours. But enough of the cake analogy, because on every tier this is a rich and satisfying cast. There's a welcome return to Covent Garden by Marie McLaughlin as Meg Page and a deliciously focused double-act from Michael Colvin and Craig Colclough as Bardolph and Pistol, while Carlo Bosi as Dr Caius does for the combover what this Falstaff does for onesies.
Which brings us to the male leads, a seasoned pair of operatic knights who combine to ace the show in a masterclass of scene-stealing and scenery-gobbling. If opera singing were a duel, Sir Simon and Sir Bryn would have skewered their seconds and the arbiter as well as each other, along with any passing wildlife.
Ford may appear to be a supporting role but it isn't when Simon Keenlyside sings it. Happily restored to full vocal and physical agility after a difficult few years, this jewel among English baritones captures every flicker of confusion and jealousy in a man who suspects he's a cuckold. He is magnetic of face and voice, and he delivers his character's angry soliloquy "È sogno? o realtà" with the stage-engulfing command of a true star.
Bryn Terfel shoulders the title role for the first time in this production. I say shoulders; 'stomachs' would be closer to the mark, since Brigitte Reiffenstuel's effluent-encrusted costumes seem to have ballooned since his predecessor Ambrogio Maestri's day. The Welsh bass-baritone, whose career has run in striking tandem with Keenlyside's (they both caught the ear in 1994 with strangely similar Schubert CDs accompanied by Malcolm Martineau), can fill the auditorium with a twinkle of Falstaff's roving eye. Of course he overacts – it's what Terfel does – but if ever a role invited it here it is. The pleasure of seeing this great artist sashay in with a riding crop and an oversized pair of jodhpurs, or converse with an old nag through a stable door, or react with eye-bulging horror to the sound of Mistress Quickly re-announcing herself with another smarmy "Reverenza", is irresistible. He masticates the Italian text with toothsome joy and sings with a booming attention to detail.
The result left a merry audience wreathed in smiles. I have reservations about Carsen and designer Paul Steinberg's staging of the Herne's Oak finale – it is way too elaborate and misses the chaos in Verdi's brilliant score – but in other respects it's a cracker. On a night of pure delight there was only one long face, and that belonged to the horse.