Faust (Royal Opera House)
David McVicar is an edgy, mordantly imaginative director, but what sets him above many of his peers is a refusal to subvert the work he serves. That is why, despite the failed attempts of other Royal Opera appointees to revive Parisian warhorses by piling on postmodern irony (think Robert le Diable), McVicar's interpretation of Gounod's Faust, wild, loopy and ten years old, comes up fresh as paint in yet another revival.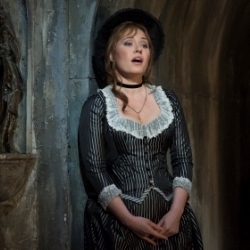 It helps that three top male singers are on hand. Bryn Terfel and Simon Keenlyside return to the roles they created at the production's unveiling in 2004, each bringing a diamond-cut intensity born of experience. They are joined by Joseph Calleja as Faust; and while there is still work to be done on his interpretation (French pronunciation is rudimentary and there were moments of questionable intonation early on) this is an ideal role for the Maltese tenor. The muscular high C at the end of his third-act showstopper, "Salut, demeure chaste et pure", was sheer class.
Yet this will be remembered as the night when an even newer star burst forth. No-show Anna Netrebko may have decided that the role of Marguerite is not for her, but it's certainly right for the young Bulgarian soprano Sonya Yoncheva. She gave such a fabulous account of Act Three (which her character dominates) that the normally first-rate conductor Maurizio Benini seemed to forget himself and revel in it, slowing things down just when the drama needed a push from the pit. Yoncheva, whose high notes blossomed with warmth and power, brought heartbreaking vulnerability to her character's woe. Once her lower register gains more definition she could well become the next great diva.
Terfel had a ball (complete with spangled gown) as Méphistophélès, the satanic stealer of souls. Gounod's opera may be earnestly romantic but the Welsh bass-baritone has added plenty of sly touches to his joyous portrayal of evil. From the smoky splutter when he rose from the depths to his mirthless laughter as Faust's fate was sealed, he barnstormed. That great voice was in fine fettle too.
The soldier Valentin may be a less prominent role but Keenlyside, whose baritone has become so heroically resonant of late. invested him with unexpected levels of nuance and depth, and his improbably protracted death scene was rendered utterly credible by the conviction of his playing. As for fresh-voiced mezzo Renata Pokupić as the lovelorn Siébel (a trouser role), she made far more of the part than is written on the page and delivered a touching account of "Faites-lui mes aveux".
As always, though, it's the oddities that linger in the memory, and these emerged with particular clarity in Bruno Ravella's precisely staged revival. Take the strange, soaring symbolism of Charles Edwards's epic designs, for instance, or those shameless musical theatre references in Act Two, or (especially) the drug-induced delirium of the Walpurgis Night ballet, its horrors played out with unalloyed boldness by principal dancers Eric Underwood and Gemma Payne. Wonderful stuff.