Close-Up: The Twiggy Musical at Menier Chocolate Factory – review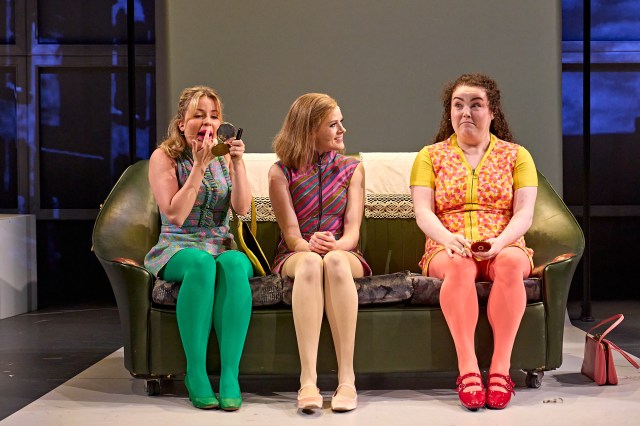 Once again Ben Elton has produced a jukebox musical that critics and experts of the genre are likely to turn their noses up at, but the ticket-buying public will love. Close-Up: The Twiggy Musical is, like its more bloated older sibling We Will Rock You, a messy, well-meaning script full of naff jokes and syrupy sentiment that serves mainly to get from one great song to another, but is too much fun to entirely write off.
The crucial difference here though, and what elevates this often inept tuner into something charming and heartfelt, is that it's a celebration of a genuine living national treasure, and that's something that doesn't come around too often.
That national treasure is Lesley Hornby of Neasden, now Dame Twiggy, and her matter-of-fact niceness and refreshing lack of pretension hangs over the whole production like an Instagram filter that's found the sweet spot between honesty and rosy cheeriness. Elena Skye, who starred in this summer's Coliseum outing of We Will Rock You, plays Twiggy, and is the show's biggest asset. The physical resemblance between the two is remarkable: at one point, the back wall of Tim Bird's set is flooded with alternate images of Skye and Twiggy in the same iconic pose and it's not easy to tell which is which.
In musicalising her story, Elton has plundered the hit parades of multiple decades so we get popular songs from the 1940s right up to the 1980s, shoe-horned in with more enthusiasm than artfulness, but terrifically well performed. Stuart Morley's excellent band is in a giant gauze box at one side of the stage and when they're revealed, it's a veritable thrill.
Twiggy's unique combination of star quality and relatability is evoked exquisitely, and Skye is a winning but never over-ingratiating narrator. Her singing is raw, powerful and assured, way better than the original to be honest, but the truth of her portrayal is never sacrificed to audience-baiting diva moments, not even in the spine-tingling act one finale "You Don't Own Me" where our heroine dumps a particularly unsuitable boyfriend, the Svengali-like Justin de Villeneuve.
Matt Corner invests de Villeneuve with rather more cute charm than one suspects he deserves, and proves a real audience favourite, although the film footage we see of the actual man suggests that he was a controlling creep. That's typical of a show that sometimes depicts some pretty damaged and/or ghastly real-life individuals with a remarkable lack of judgement. It's unclear, however, whether that's because they've got still-living relatives with their lawyers on speed dial, or because the whole thing is filtered through Twiggy's rancour-free memory bank. Lauren Azania AJ King-Yombo and Aoife Dunne appear periodically as a pair of childhood friends with a comically disapproving take on the men involved.
As alcoholic screen actor Michael Witney, father of Twiggy's beloved daughter Carly, Darren Day, despite an astoundingly bad wig, makes vivid and convincing the conflicts between sober, loved-up family man and barely coherent slave to the drink. He delivers a fine, affecting version of Nilsson's "Without You" when he realises he has ruined the relationship. Dunne bizarrely pops up as a psychopathic Phil Spector at one point.
Elton's script starts out as fairly straightforward "this happened….and then I did this" storytelling, narrated by Skye's magnetically self-effacing heroine, but then unhelpfully jumps around chronologically for no intelligible reason beyond wanting to justify an eclectic songbook. We get everything from "White Cliffs of Dover" through The Hollies to Jackie Wilson, and a jaw-droppingly simplistic attitude to women's rights and mental health. The book is particularly toe-curling when it has Twiggy comparing the MeToo movement and present-day female empowerment to earlier less enlightened times, almost as though Elton felt he had to pay lip service to them without any real understanding. It's similarly off-key when it deals with Lesley Hornby's mother's mental health issues, where it becomes almost offensively flippant. Suffice it to say that Next To Normal isn't the only musical in town that features electroconvulsive therapy.
Mostly though, this is the Hello! magazine version of Twiggy's life, but with wonderful songs. The storytelling in the second half smacks of everything being hurled at the wall, with characters and sets being aimlessly shuffled on and off, as though Elton suddenly became acutely aware that the show was overrunning and so decided to accelerate through the last couple of decades. The song choices become pretty eccentric too, albeit undeniably enjoyable; for instance, when Twiggy went to Broadway in 1983 with Tommy Tune in the Gershwin musical My One and Only. That section is introduced not with a bit of George and Ira, but with Pat Benatar's 1988 rock belter "All Fired Up", staged here to include a garishly outfitted rehearsal that looks like an aerobics class and the hilarious spectacle of Hannah Jane Fox as Twiggy's mum giving it the full Mrs Doubtfire with her hoover. We do eventually get a glimpse of Twiggy's Tony-nominated turn, and it's elegantly done.
We Will Rock You fans will relish the chance to see the original Scaramouche (Fox, once again doing funny, sparky work with sometimes iffy material) and Skye, the star of the recent revival and tour, belting their faces off at each other. Another standout is Steven Serlin, very touching as Twiggy's doting dad, and quite uncanny in his impersonations of Melvyn Bragg and Woody Allen.
Tim Blazdell's video designs are slick and evocative, as is Jacob Fearey's choreography which takes every dance cliché in the book and remints them effectively. Elton's direction is efficient rather than inspired but he at least keeps the whole thing moving at a cracking pace. His script is stronger on humour than pathos, but the excellent cast make it work…just about, and you're only ever a couple of lines away from another banging number.
Despite its myriad of flaws, it's impossible to have a bad time at Close-Up. Elena Skye is a star, so is Twiggy. I thought some of it was terrible, but would I go back and see it again? Yes, I probably would.