Cast joining Mel Giedroyc in Much Ado About Nothing at Rose Theatre, Kingston announced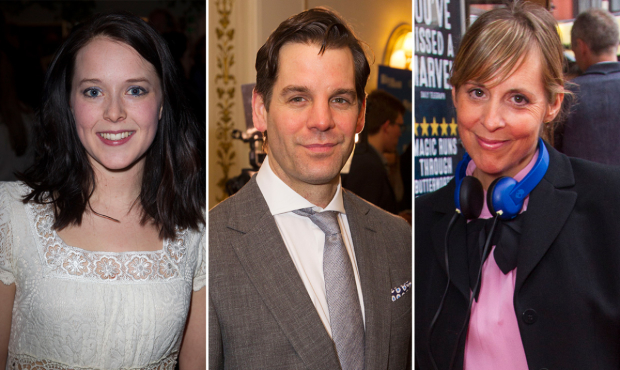 Rose Theatre, Kingston in south London has announced its full 10th anniversary season, as well as further casting for its production of Much Ado About Nothing, joining Mel Giedroyc.
The production of Shakespeare's comedy, which is directed by Simon Dormandy (The Hudsucker Proxy, The Encounter), will run at the venue from 13 April to 6 May.
Joining Giedroyc (who plays Beatrice) will be John Hopkins (The Secret Diary Of Adrian Mole Aged 13 ¾ ) as Benedick, Kate Lamb (The Taming of the Shrew) as Hero, Calam Lynch (Dunkirk) as Claudio, Peter Guinness (After Independence) as Don Pedro, Peter Bray (A Midsummer Night's Dream) as Don John and Stewart Wright (Swallows and Amazons) as Dogberry.
Furthering casting in the production includes Sam Dastor, Victoria Hamnett, Caolan McCarthy, David Rintoul, Katherine Toy and Silas Wyatt-Barke. The show will have set and costume design by Naomi Dawson, lighting design by Paul Pyant, and sound design and composition by Jon Nicholls.
Giedroyc will also star in the West End revival production of Company, which opens in September, alongside Rosalie Craig and Patti LuPone.
As part of its anniversary season, the venue has announced a revival and world premiere in double bill Hogarth's Progress by Nick Dear (Frankenstein, Food of Love). Set in 18th century London, the two shows will explore the life of artist William Hogarth, with one show The Art of Success exploring Hogarth's rise to fame, while the latter, The Taste of the Town, charts his life 30 years on as he feels at odds with the world.
Dear wrote The Art of Success in 1986, and returns to write The Taste of the Town this year. The playwright said: "Hogarth is older; so am I. Is he the same person? Am I the same person? How do the decisions of three decades ago look now? Are we all, perhaps, in constant conversation with our younger selves – a dialogue of reproach and congratulation, pleasure and regret? Or do all the statements just turn into questions?"
The shows will run from 13 September to 21 October, with performances running either as a double bill on a single day or over consecutive nights. They are directed by Anthony Banks (Strangers On A Train, Pignight).
Previously announced in the season are the musical adaptation of Roald Dahl's George's Marvellous Medicine, which is a co-production with Curve Leicester, which runs from 28 March to 7 April. From 6 to 17 November, Tom Burke will star in Don Carlos, as part of the show's UK tour.