Top 10 protest songs from musical theatre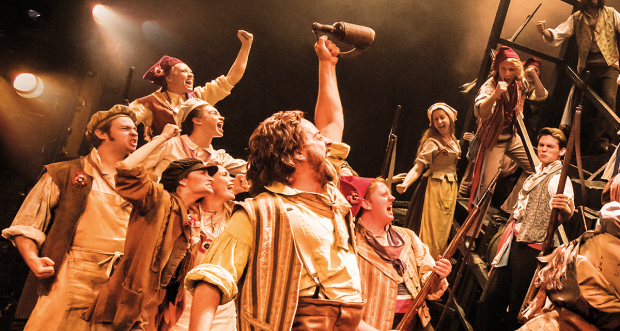 We've heard word that there may be a protest or two happening in the next few days, so wanted to get ahead of the game by suggesting ten musical moments that could be the soundtrack to some protesting. Got any other suggestions? Let us know on Facebook or Twitter.
10. "Over The Moon", Rent
THE protest song for many, Maureen's piece of performance art at the heart of Rent sends musical theatre fans over the moon. Maureen sings it in protest at Benny's plans to evict homeless people to make way for his cyber arts studio. If Idina Menzel could come and perform it in London next week, that'd be great.
9. "Revolting Children", Matilda the Musical
There are few moments in Matilda as exciting as watching the school children overthrow the tyrannical Miss Trunchbull and rebel against her iron will. So we thought "Revolting Children" would make a great addition to the list.
8. "Yorktown", Hamilton
Hamilton is the nonconfirmist musical of the decade, heck, even the century. Even a certain vice-president couldn't handle the heat. The famous line "Immigrants, We Get The Job Done" also spawned this incredible track, featuring the rap skills of Riz Ahmed.
7. "Hair" from Hair
Hair was perhaps the original rebellion musical, born in the midst of Cold War politics and the legacy of the Vietnam War. It's stood the test of time, and secures a solid place on our list.
6. "A Brand New Day", The Wiz
The Wiz's dose of bright optimism and killer tunes gets in at number six here. It's a song which says goodbye to the old and bad and hello to the future. Revival sometime soon maybe?
5. "Defying Gravity", Wicked
From one version of Oz to another! Told from the perspective of someone ostracised, rebelling against an old man who seems more powerful and wealthy than he actually is? To help the voiceless? Of course it's part of our list.
4. "I'm Here", The Color Purple
From the opening bars, "I'm Here" is a quiet and powerful number of defiance, self belief, kinship and solidarity.
3. "Do You Hear The People Sing?", Les Misérables
I mean, it's THE protest musical. We had to put it in here somewhere! We also love this multi-lingual version – a chorus of voices assembled from all over the world.
2. "I Am What I Am", La Cage aux Folles
A bold, unashamed declaration, a statement of identity and important motto to live by. We've put it at number two on our list of top protest songs.
1. "I Know Where I've Been", Hairspray
Let's face it, any one of the numbers above could have made it to the top spot. We went with this brilliant number from Hairspray because of the incredible performance by Queen Latifah, delivered at the Nobel Peace Prize Awards back in 2014. "There's a dream in our future, there's a struggle yet to win…to sit still would be a sin." Powerful.