Sputnik Sweetheart at the Arcola Theatre – review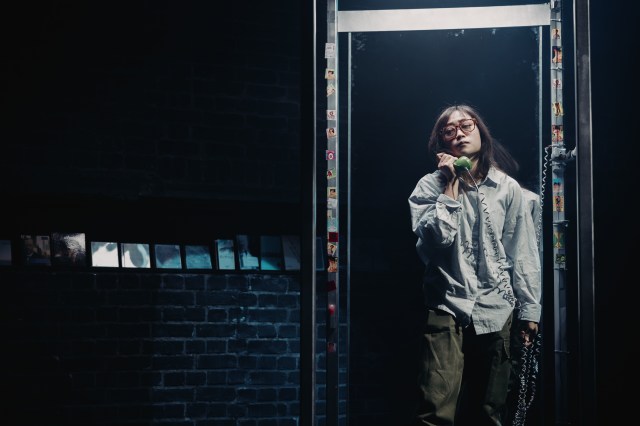 It's certainly a bold undertaking to adapt Haruki Murakami's mercurial 1999 novel about unrequited love, the human condition and much else besides. The book is set in multiple global locations and features dream sequences, magical realism and, in typical Murakami fashion, no shortage of narrative meanderings.
Adaptor Bryony Lavery has filleted the story down to its essential elements, in a brisk 80-minute telling that reflects the book's peripatetic nature. The plot is a love story-cum-mystery, centering on a young teacher, K (Naruto Komatsu), and his friendship with aspiring novelist Sumire (Millicent Wong), who travels from Japan to Europe in pursuit of an older woman, Miu (Natsumi Kuroda), only to subsequently disappear.
Melly Still's production is an artful attempt to capture the mystical aspects of the source material. Pencil-sketch projections from video designer Sonoko Obuchi reflect the on-stage action, while Shizuka Hariu's set features a moveable phone box that becomes the focal point for several key interactions, the landline cord tying characters together both figuratively and literally.
However, as the story grows more convoluted following Sumire's disappearance, the thread gets increasingly hard to trace and characters difficult to sympathise with. This is partly down to Murakami's mix of styles, but the production doesn't do a great job of clarifying things for the audience and becomes flat as a result. The somewhat constricted performances don't help matters, with standout Wong, who captures the anarchic spirit of Sumire, notable by her absence in the latter stages.
Lavery and Still collaborated a few years back on an acclaimed version of The Lovely Bones, so they're an experienced team when it comes to page-to-stage adaptations. But the magic eludes them here, partly due to the un-pin-downable nature of the book but also perhaps the fact that loneliness, one of its central themes, is difficult to capture on stage.
There are tender moments and, as ever with a Still production, an abundance of impressive stylistic touches – the way Miu slowly, ominously descends a ladder as Sumire and K talk flirtatiously in a Tokyo park, or the phonebox seamlessly transforming into the compartment of a ferris wheel. The 90s pop-infused soundscape (the composer and sound associate is Tatsujiro Oto) is also neatly done. But some admirable parts don't add up to an impactful sum, and we're left orbiting around it like one of those oft-mentioned solitary satellites.