Shakespeare in Love (Noel Coward Theatre)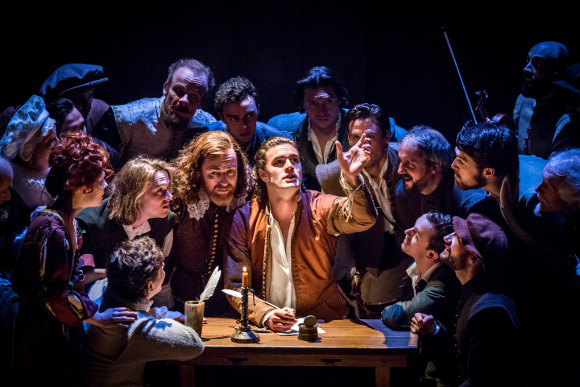 Yet another film adapted for the stage? But in this instance the case for the defence was submitted well in advance of the opening: John Madden's Oscar-winning 1998 film, scripted by
Marc Norman
and
Tom Stoppard
, really belonged in the theatre in the first place!
Lee Hall, who has done the efficient stage adaptation for producer Sonia Friedman and director Declan Donnellan, has described the movie as Stoppard's "love letter to the theatre."
There are jokes galore; a brilliant shaggy dog left over from Two Gentleman of Verona called Spot, so some-one can say (groan) "Out, out, damned Spot," when he gets too frisky; and a running undertow of suggestions about the imminence of Twelfth Night.
As in the film, which starred Gwyneth Paltrow and Joseph Fiennes, Lucy Briggs-Owen as the merchant's daughter Viola De Lesseps, and Tom Bateman as Will, are propelled on a double trajectory: hers of falling in love and becoming an actor in a boys' world, his of falling in love to dissolve his post-Two Gents writer's block and find his creative groove.
So there is no denying the narrative pull, or the incidental pleasures of eavesdropping on auditions, rehearsals and backstage disasters, and of witnessing the transformation of Ian Bartholomew's courtly busybody Tilney into yellow-stocking-ed Malvolio, or Ferdy Roberts' bumptious investor sidling centre-stage as the death-dealing Apothecary.
"There is no denying… the incidental pleasures of eavesdropping on auditions, rehearsals and backstage disasters"
For while Twelfth Night lies way beyond – Will is writing it, surrounded by the rest of the cast as Viola departs these shores with her "arranged" tobacco merchant husband, Wessex (Alistair Petrie) – the action, set loosely in 1593, stops off at shaking Will out of his doldrums over Romeo and Ethel, the Pirate's Daughter, before she becomes Juliet.
Viola, joining the boys in disguise, is the catalyst, with the star dramatist of the day, Christopher Marlowe (David Oakes), helping; at first, by completing a famous sonnet and then by acting as a background prompt to an inverted balcony scene, a bit like playing Cyrano for dumb Christian wooing Roxane.
When told of the new Romeo plot, Paul Chahidi's blinkered impresario Henslowe – who'd far prefer two more gents and another dog – huffs incredulously, "Well, that'll have them rolling in the aisles…" The point being that we've seen Will and Viola rolling in the hay in the tiring house – and that's the sexy difference between the early comedy (revived this week in Stratford-upon-Avon for the first time since 1998) and the full-blooded real romance of Verona.
The film was first mooted before Shakespeare's Globe opened on the South Bank and there's a sense that the play has been trumped not only by the Globe itself (the company jig at the end looks like an almost routine homage) but also by the cheeky Globe style; one play there last year even recycled the Stoppard gag of a bargeman claiming to have had that Christopher Marlowe in the back of his boat once.
And Nick Ormerod's basic Elizabethan galleried set – which makes room for Anna Carteret's imperious Queen Elizabeth to hold court, fireworks at Greenwich and sword fights in the pit – is unavoidably redolent, and prophetic, too, perhaps, of the Mark Rylance Twelfth Night that has already been and gone from Globe to West End and Broadway…
Spirited is the only word for Briggs-Owen's Viola. She and Bateman's hunky, good-looking Will (is that right, do you think?), make an attractive pairing at the centre of Donnellan's ensemble. David Ganly huffs and puffs as Richard Burbage (not such a great actor after all, then), Abigail McKern skitters about as a rosy-cheeked Nurse and Colin Ryan stutters gloriously into life as John Webster.