Rock Follies at Chichester Festival Theatre – review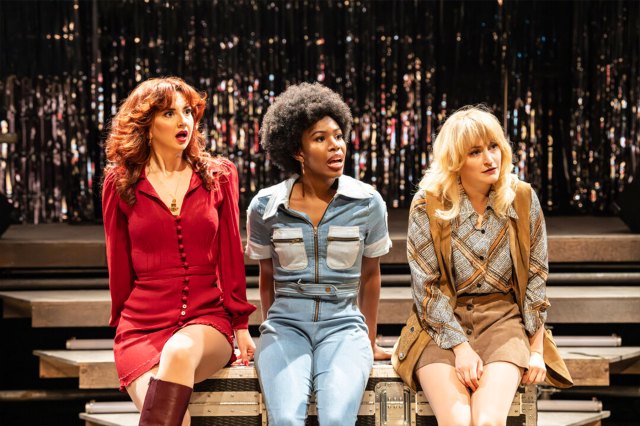 In the male-dominated music world of the 1970's there was no such thing as the "Girl Power" that the Spice Girls would come to symbolise 20 years later. In the equally male-dominated world of television, it was only Arlene Phillips and her Hot Gossip dance troupe that showcased female-led talent to any great extent – and they were far from in control of their own destinies. Howard Schuman's short-lived and long-forgotten Rock Follies tried to counter that suppression with a groundbreaking musical TV serial that would squarely place women at its fore.
Rock Follies ran for just two years in '76 and '77, with just six episodes in each series. An industrial dispute in 1977 caused the second series to be split across the year, it is this loss of momentum that Schuman firmly lays the blame for Rock Follies becoming an enigma in all but distant memory. That's not to say it wasn't a huge success at the time – it won three BAFTAs and spawned two successful albums of its songs by Roxy Music founding member Andy Mackay.
Anna, Dee and Q escape their chorus-line lives and the advances of their lecherous director and decide that they will form their own rock band to "give the finger to the male-dominated music industry that objectifies women". Singing rock is simply a case of "singing from the groin" they are instructed. Naming themselves the Little Ladies – "it's ironic" – they set about confronting the world of men that lays ahead of them.
Chloe Moss rather lumpily condenses the 12 episodes into one show with Mackay's songs broadly intact throughout as well. It makes for a long and fragmented evening in Dominic Cooke's overly busy production. Vicki Mortimer's rough and scant set design of scaffolding, parcans and tarnished parquet flooring captures the essence of the TV show nicely. It oozes nostalgia and for anyone that remembers the TV show (original star Rula Lenska was also in attendance on press night), this will be a wonderful gallop down memory lane.
Carly Bawden's Anna displays a damaged fragility as she battles against the male dominance in her life as well as the ever-looming demons of drugs and alcohol. There is little emotional depth to the words that Schuman and Moss provide her, but nonetheless, Bawden sings her way out of domesticity.
Zizi Strallen's softcore pornstar, Q – "less Suzi Quatro and more Susan Hampshire" – is the eternal peacemaker of the group and having been accused of too much fence-sitting ends up being the one that makes the greatest stand of independence. The moments when Strallen is allowed to let her voice loose are superb as she releases her inner rocker and vanquishes all memories of a certain flying nanny.
Angela Marie Hurst's Dee is the real feisty one of the group. Breaking free from her hippy commune, she is unwillingly thrust to the front of the group (think Diana Ross) by her pushy record executives. Hurst is able to add an additional layer of racial prejudice into the role as she battles and rages at every turn. With Julie Covington-sized boots to fill, Hurst sings as fearlessly as Covington once did and brings a much-needed anarchic edge to Mackay's otherwise non-descript songs.
Tamsin Carroll is a cutthroat record producer and clearly one of the few women to have made it within the music industry – that makes her no less dominant in the lives of the Little Ladies however. Her big Act 2 song "The Things You Have To Do" reveals some emotional conscience though and is executed well by Carroll.
There are moments where the message is loud and clear – the frustrations at being asked questions on nothing but their looks at a press conference and the fight to use their song "Jubilee" to bring political substance to popular culture for instance – but these are too few and one can't help but feel that there is some grit missing.
Two-dimensional characters fill the space with a lot of earnest striding on and off stage with flight cases. Songs are never entirely fulfilled and voices are rarely given the freedom to soar. The material may have felt new and edgy in 1976, but 47 years later, it is all just a little too flimsy to fully satisfy more than just a dose of nostalgia.