Review: Mountains: The Dreams of Lily Kwok (Stratford Circus Arts Centre)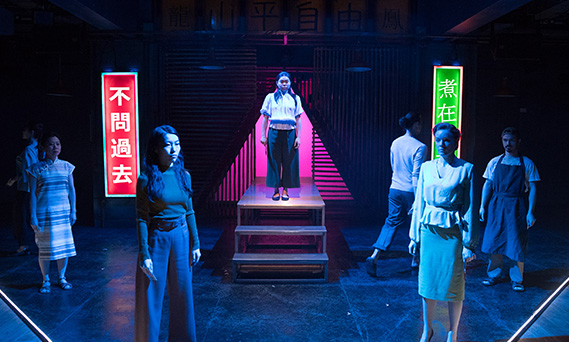 Mountains: The Dreams of Lily Kwok is one hell of a story – an inter-generational, decades-long tale of deep poverty, desperate measures, and the Chinese diaspora. Adapted by In-Sook Chappell from Helen Tse's family memoir Sweet Mandarin, it follows the eponymous dreamer Lily from her humble beginnings as a Guangzhou peasant, through her harsh Hong Kong upbringing, all the way to rainy Manchester, where her East Asian recipes gave birth to a popular Chinese restaurant that's still open today – the Sweet Mandarin of Tse's title.
It's a story of broad, cinematic scope, traversing half a century and half the globe in the space of two hours as it tracks Lily's journey from child labourer in a steamy slumdog factory, to maid in a wealthy British family's Hong Kong household, to restauranteur in northern England. There's an awful lot packed in: first loves, last goodbyes, an inspirational father who sells Soy Sauce to make ends meet, an arsehole husband who spends hard-earned cash on opium, and the Japanese army, who brutally occupied Lily's life during WWII.
A shame, then, that such an extraordinary tale is realised on stage through such a wonky conceit. In Chappell's adaptation, we experience Lily's life story through the eyes of her granddaughter Helen, a Manchester-born financial lawyer working in modern-day Hong Kong and hating it. Helen's loneliness summons the ghost of her grandmother, who leads her down memory lane, scene by scene. Sometimes they switch places, sometimes they speak simultaneously. It's a clunky, crippling framing device, designed to emphasise the legacy of one generation to another, but that all too often hinders the drama, rather than helping it.
Jennifer Tang's staging – a touring co-production between Yellow Earth Theatre, Black Theatre Live, and Manchester Royal Exchange – is fast-moving and fluid, shifting from post-war to present-day Hong Kong in dreamy whirls of chintzy tables and neon Cantonese script. It literally gets cooking in the second half, when Siu-See Hung's Helen and Tina Chiang's Lily concoct a curry on stage. It's heartening to see a predominantly female, predominantly British Asian cast (and a predominantly British Asian audience, too), and the performances are solid and sturdy, but not spectacular. Ruth Gibson offers much-needed comic relief as a kindly, casually racist colonial housewife.
The result of an uneven cast and an awkward adaptation is a slick show that's got all the right ingredients – compelling issues like the legacy of colonialism, the price of ambition, the identity crisis of second-generation immigrants all rear their heads – but that never really sinks its teeth in, too often prioritising style over substance. Mountains: The Dreams Of Lily Kwok is a thoroughly absorbing watch, but it could have cooked up far more food for thought.