Review: Dusty (Theatre Royal Bath)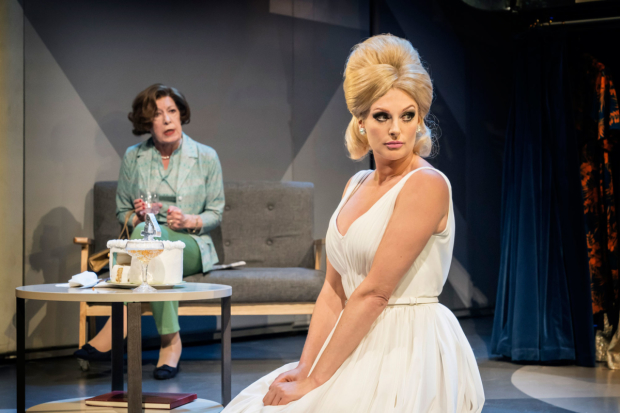 Early in her career, when Dusty Springfield was recording "I Just Don't Know What to Do with Myself" the acoustic just didn't sound right to her. It was 'too cold', not the sound she had experienced earlier when singing to herself. So she decamped the production to the bathroom, and one of her first iconic hits was born.
It's a story that hints at the demanding perfectionism, the unique creativity and the drive that birthed a diva who became a voice of a generation. Jonathan Harvey's biographical musical, captures all the key moments in the life of Mary Isabel Catherine Bernadette O'Brien – changed to the much catchier Dusty Springfield – the meteoric rise and gradual fall, a career renaissance as the Pet Shop Boys came knocking and then her final arc as cancer took hold.
In truth, this new musical's book is a little workman like, the kind of career hagiographic that the BBC has knocked out for icons over the years. Its format will be familiar to anyone who has ever seen Jersey Boys or Sunny Afternoon, a first act that builds as hit follows hit, while the second charts the fallen diva, now in self-imposed exile in America, drinking and spilling venom as she finds herself continuously overlooked by a music industry that is already on to the next bright thing. Harvey, now mostly working in soaps as a staff writer on Corrie, keeps the plot motoring along with the odd sitcom one-liner honed from his time working on Gimme Gimme Gimme, though his forays into the political are a little confused. In Apartheid South Africa for example, she rails against the country's inbuilt racism and then belts out "You Don't Own Me".
Still it's solid enough and a marked improvement by all accounts from the disastrous musical of the same name, seen at Charing Cross Theatre a few years ago. If that production seemed uncertain of trusting the performers to recreate Dusty and included video clips of her singing alongside the performers, here Katherine Kingsley stands front and centre. The multiple Olivier-nominated Kingsley is breath-taking as the blue-eyed soul singer, yearning to create a new sound and escape from the clutches of her overbearing mother and staid life.
Vocally Kingsley takes us on a journey, her first TV appearances don't quite have the smoky voiced hues that are so familiar from her recordings, but suddenly as she belts out "The Look of Love" Dusty is in the room with us. It's a show that demands a lot from her, it's a huge sing for one, and she gives both a terrific impersonation and a well-judged study of a woman whose early diva-ish behaviour declines into alcoholism and self-harm. The show plans to transfer into town, and Kingsley's performance alone is enough to make this happen.
It's her show but there are other well-judged performances. Joanna Francis as Louis, a conflation of a number of women from Dusty's life, portrays well the lover who gives up her own career to set up home but gradually becomes more and more isolated, while Rufus Hound does what he can with an underwritten manager role. Maria Friedman's production moves the pieces along tidily enough, though it's only in the terrifically well staged "What Have I Done to Deserve This" that the piece truly comes alive and gains an energy independently of Kingsley's star wattage. It's a five-star performance bestriding a solid production.