Red Pitch at the Bush Theatre – five star review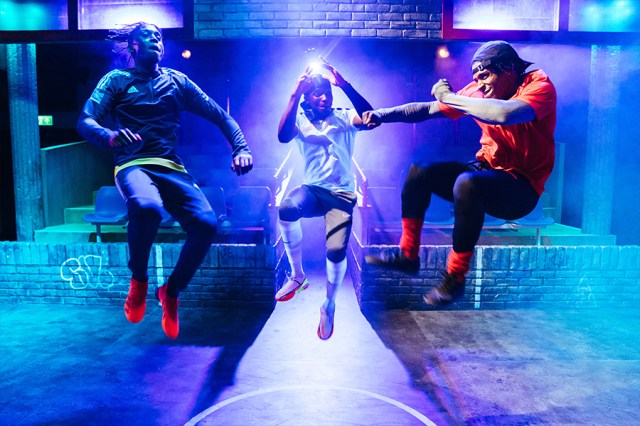 There was a party to celebrate the launch of a new season of new writing at the Bush Theatre on the opening night of Red Pitch by Tyrell Williams. The joy-filled mood felt absolutely apt: this play, revived for the first time, is one of the great triumphs of the adventurous commissioning programme of artistic director Lynette Linton. It won every virtually every debut play prize going. And no wonder. It is an absolute cracker.
Williams takes the simplest of situations – three 16-year olds playing football on a scruffy urban pitch (the Red Pitch of the title) – and uses it to paint a brilliant but bleak picture of the trials of growing up in south London.
Huge themes bubble through its smart, overlapping dialogue. The neighbourhood the boys are growing up in is being demolished. The harsh metallic clanks of demolition (sound design by Khalil Madovi) form the constant background to Daniel Bailey's fast-moving, tightly coiled production. Their Endz, their community, is vanishing even as they try to make their way in the world, leaving them adrift.
On Amelia Jane Hankin's beautifully evoked set, with a low brick wall one side, and railings the other, they dream of being scouted, of achieving their dreams to play football professionally.  They know that "success comes after tears", pushing themselves on physically, comparing their prowess, practising their moves, in their attempts to do well.
The three friends are carefully differentiated. Bilal (Kedar Williams-Stirling) is driven by his desire to fulfil the aspirations of his strict father who had to give up a chance of playing for Leyton Orient to look after his own family. Then there's Omz (Francis Lovehall), always on the defensive, always worried, forced too young to care for his ailing grandfather. And gentle Joey (Emeka Sesay), whose family are doing OK, who believes in a Plan B, and who has the gifts of a natural conciliator.
But what is so wonderful about Red Pitch is that the teenagers, superbly and convincingly embodied by the play's original cast, are written so richly that they don't represent a type or an aspiration. The plot is tight, but never schematic. Their reality makes their plight all the more moving. Though they are growing up in a tough world, their defining quality is a kind of sweetness. Their eyes light up when they talk about their footballing heroes, or girls, or their hopes of a certain number of children – "one for every day of the week."
Their chat reveals them trying to forge their way in life without harming others. Through the way they talk, they show rather than tell the devastating effects of change on their own lives; the way that a community is built on friendships that are torn apart when the developers move in; the simple chaos of urban living where there is not enough help and support for the poorest and most vulnerable; the kindness of neighbours, who constantly try to do their best.
None of this is spelt out, but it is refreshing to watch a play that recognises people's essential goodness in an alien world that leaves them frustrated and embittered.  The men's love and care for one another, expressed in embarrassed joking and in constant bickering, shines through, making it all the more shocking when anger and disappointment lead to one of the most painful and realistic fights I've ever seen staged. (Hats off to fight director Kev McCurdy).
The movement direction by Dickson Mbi is also superb. The snatches of skills are realistic, but the slow-motion bends and swerves between scenes serve the double purpose of suggesting another more graceful world beyond the one where the boys struggle and strive, touching the metallic post of the pitch as they leave it as if they are seeking talismanic protection in the space beyond.
That little detail is just one of the careful joys of a magnificent production of a play that is set to become a classic.  It is a tribute to the Bush and to the talent of the writing it is supporting.