Explore Shows from this Story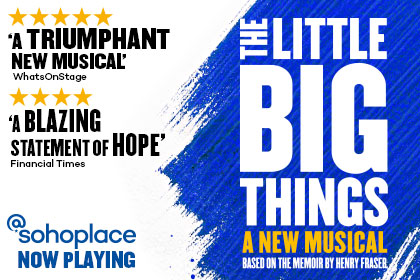 Final performance: 02 March 2024
Black Friday - SAVE UP TO 55%*
Meet the Frasers – the family making magic in The Little Big Things
Evita, Hamilton, Here Lies Love – lots of musicals are inspired by the fates of famous figures in world history. But in the case of The Little Big Things, the new musical based on a true story that has taken the West End by storm over the last couple of months, the magic lies in taking the experiences of an everyday family thrown into extraordinary circumstances – after teenage son Henry is left paralysed from the neck down after a swimming injury.
Henry's experiences in adapting to his new life form the beating heart of the show, but around him are the experiences of his three rugby-mad brothers and his parents, they themselves far from free of any conflict. Joe White's book acts as a perfect meditation on the intrinsic links between family, and how quickly a house of cards can both topple and be rebuilt in entirely unexpected ways.
For Alasdair Harvey, who plays Henry's father Andrew, it took a while to decide to do the show – but three things convinced him – the first two being producer Michael Harrison and director Luke Sheppard (also responsible for smash hits like & Juliet, Rent and My Son's A Queer (But What Can You Do?)).
The third was more personal: "At first, I didn't want to get involved in the show, because I have a personal experience that has quite a lot of parallels to this particular story, and with a traumatic event. When I was approached about it, I instantly said, 'I can't do this. This is too close to home'. And then we did another workshop and then I thought: 'I still can't do this.'"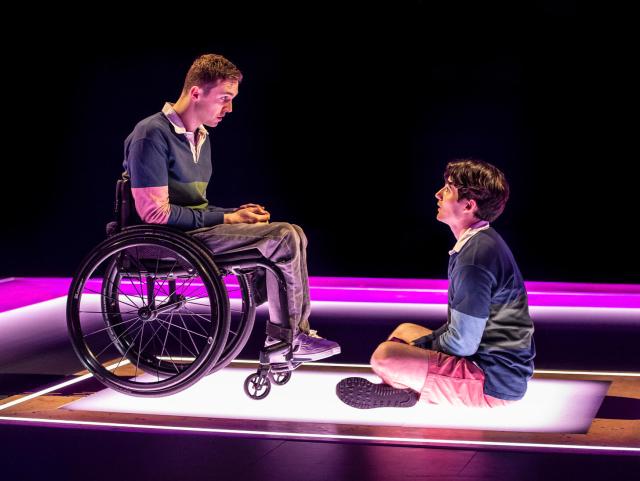 But as it turns out, Harvey was eventually persuaded: "It was my wife that actually said 'Why? Why would you not do this? Are you really going to let anybody else tell this story?' I absolutely believed in the material, I just didn't believe I could do it".
The result, as this interviewer can attest, is the perfect match of performer and role. While Harvey wouldn't want to be flattered, he does pin his ability to do the show on the experiences in the run-up: "What was joyous about being in the rehearsal room was the absolute freedom from Luke and from the writers, too. It made it so collaborative – you could be as raw as you wanted to be."
For stage favourite Linzi Hateley, who has legions of fans thanks to her stints in shows like Joseph and the Amazing Technicolor Dreamcoat, Blood Brothers and Mamma Mia! (which she took on with Harvey), what convinced her was the experience of something new: "I was fortunate enough to be involved right from the beginning in the workshops – which is unusual for me, because I never normally do many workshops because I can't read music and I'm not a very good sight reader, so I kind of get stressed about it. But my agent said this one I had to do – and he was completely right."
The magic of Sheppard, which became a recurring theme when chatting to the cast, was part of the appeal when Hately took on the role of Henry's mother Fran: "I hadn't worked with Luke before, but I just instantly thought, 'you're offering something different to this room that I haven't sort of experienced before'. I found it quite refreshing – he was very open to allow us to bring as much of ourselves to the piece as possible."
In the case of the character of Henry, it was two actors bringing themselves to the role – Jonny Amies as the younger Henry, and Ed Larkin as the older Henry, adjusting to life in a wheelchair. Taking on the same character at two points in their life creates a link between the duo, Amies explains: "I do feel a connection to Ed – which I think is down to the intimacy of our relationship on stage (the pair converse within Henry's consciousness at key moments in the show) but at the same time the two Henrys are separated by this moment in time, which allows us to play up our Henrys' differences, for example how they'd act differently in certain situations."
Part of the show's alchemy boils down to its venue – the in-the-round space of @sohoplace, the newest theatre in the West End. For Larkin, it creates closer ties to the audience: "I feel so close to the audience as well. Not only can we see their reactions, but they can also observe other people's reactions, which is an amazing element to this theatre. For me, as a character who does a lot of direct address, it really helps me in a way by feeding off the audience's emotions and responses."
But Sheppard strikes again in adding to the impact of the staging, Larkin explains: "Luke helped prompt so many conversations about how he wants the audience to realise they're watching a show. In tech, he was explaining how the team didn't want to colour the microphones, or how you can very easily see the workings of the scissor lift."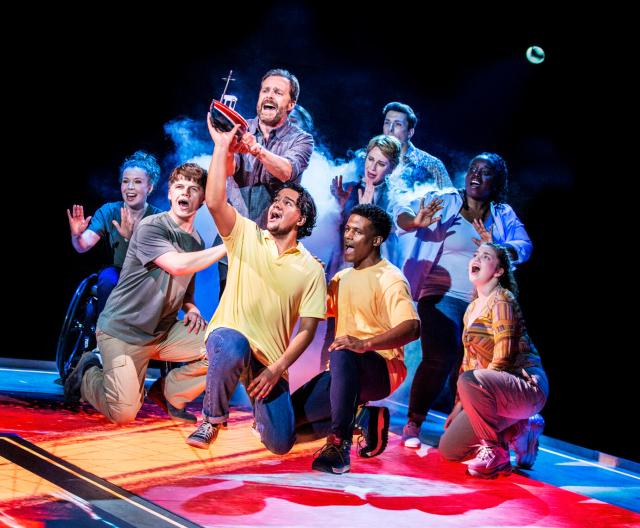 Amies has been involved from the off, and essentially pledged himself to the production from the beginning: "I remember saying to Luke after the first workshop in the pub, 'I genuinely don't care what part there is for me in the show, but I want to be a part of it'. You can tell that this is a trailblazer of a show – and for me as a non-disabled actor, I want to be part of that movement. I want to attach myself to stories that are meaningful to a huge, huge community who have been completely underrepresented."
Larkin, who joined in the second workshop (though before the show was greenlit), explained why this feels so different to any other West End musical: "It's not like one of these shows that is running for years and we just have to know the blocking. Working on The Little Big Things was about creating the show – it was a really collaborative thing, which was a pleasure."
Three performers completing the Fraser family are Jordan Benjamin, Jamie Chatterton and Cleve September, playing Henry's three real-life brothers – Dom, Tom and Will. Benjamin explains when he realised the show was destined to be a hit: "Though we knew in the rehearsal room it was good and exciting, it was only in that first preview – when we saw Henry and his family react to the musical, and show how much they loved it, that we had found something special."
Chatterton admits there was some trepidation showing the piece to the Fraser family at first: "It was probably one of the most nervous things I've done because, you're like – this is someone that is a real person who also is not into musicals. You're like, okay, how is this going to go?"
Meeting the Frasers was a relatively lovely experience, Chatterton explains, revealing that the cast now have the brothers on social media: "They have so much nice stuff to say about the show, about what we were doing, as them. And also I think they understood that we weren't trying to play them exactly as they are, because, you know, we're playing a part and we're doing our version of them."
Henry himself, as it turned out, was the person whose opinion mattered most, Benjamin continues: "The main critic, the main person's opinion that we really cared about was Henry's – just the fact that Henry loves the show so much, having seen it a number of times, means the world to us."
September brings it all back to the foundations of the show: "It all genuinely feels like extended family. We were kind of taken on board by Andrew when we first met him, and he was like, 'Oh, I've got some more sons!' It was the wildest thing."
Ultimately, though a story driven by the experiences of one family, The Little Big Things goes so much further: "It's just special to see people seeing themselves on a stage – and for them to feel seen and feeling represented. That's quite powerful."
Featured In This Story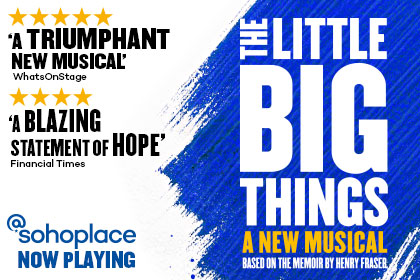 Final performance: 02 March 2024
Black Friday - SAVE UP TO 55%*