Kiss Me, Kate, Dan Gillespie Sells and Richard Hawley announced in new Sheffield Theatres season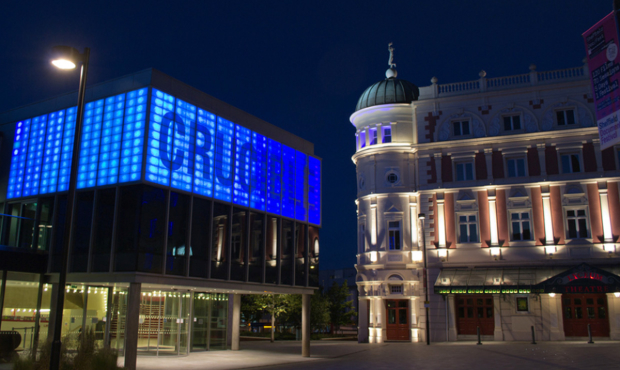 Sheffield Theatres, composed of the Lyceum, Crucible and Studio, has announced its plans for 2018, featuring a new musical by Pulp guitarist and solo performer Richard Hawley, a production of A Midsummer Night's Dream with music by Dan Gillespie Sells and a revival of Kiss Me, Kate.
Sheffield-born Hawley will provide the music for Michael Wynne's new piece, entitled Standing at the Sky's Edge, which will be directed by the venue's artistic director Robert Hastie. Set on the Park Hill estate and exploring the nature of public housing, it will feature old and new music by the musician, and mark his first stage musical. He is best known for his Mercury Prize-nominated album Coles Corner, and has played guitar for bands including Pulp and Longpigs. The piece runs from 14 March to 6 April next year.
In the Crucible, there will be a new revival of musical Kiss Me Kate, directed by Paul Foster (Annie Get Your Gun). Featuring music and lyrics by Cole Porter, the musical includes numbers such as "So In Love", "Brush Up Your Shakespeare" and "Too Darn Hot". The musical runs from 7 December to 12 January.
Also announced in the new season will be a new version of Shakespeare's A Midsummer Nights Dream, directed by Hastie and with new music composed by Gillespie Sells, the frontman of The Feeling. Gillespie Sells' musical Everybody's Talking About Jamie, created alongside Tom MacRae, debuted at the Crucible Theatre last year and is now running in the West End, winning three WhatsOnStage Awards this year including Best New Musical. A Midsummer Night's Dream runs from 28 September to 20 October.
Caroline Steinbeis will direct a revival of Githa Sowerby's Rutherford and Son. Set and written in 1912, Sowerby's piece follows a family's tense struggle and a mother's drive to see her son succeed. It runs from 8 to 23 February. Last summer, Sowerby's The Stepmother was revived at Chichester Festival Theatre.
From 13 September to 6 October, Rebecca Frecknall will direct the world premiere of Steel by Chris Bush in the Studio, a piece that looks at the women in the Labour Party over the decades.
The venue will co-produce the world premiere of Kate Bowen's Close Quarters with theatre company Out of Joint in the Studio. Directed by Out of Joint's artistic director Kate Wasserberg, the piece is a thriller about the first female soldiers and runs from 25 October to 10 November.
From 21 February to 9 March, Taio Lawson will direct Debbie Tucker Green's hang in the studio. A provocative and haunting play about the fate of a criminal, Green has a number of projects running over the next year including a new piece at the Royal Court.
The venue is currently hosting Kate Hewitt's production of Frost/Nixon, which critic Matt Trueman described as "positively prophetic". Previously announced shows for the next 12 months include revivals of One Flew Over The Cuckoo's Nest and Caryl Churchill's Love and Information.