Critics praise 'wired' Kathleen Turner in Bakersfield Mist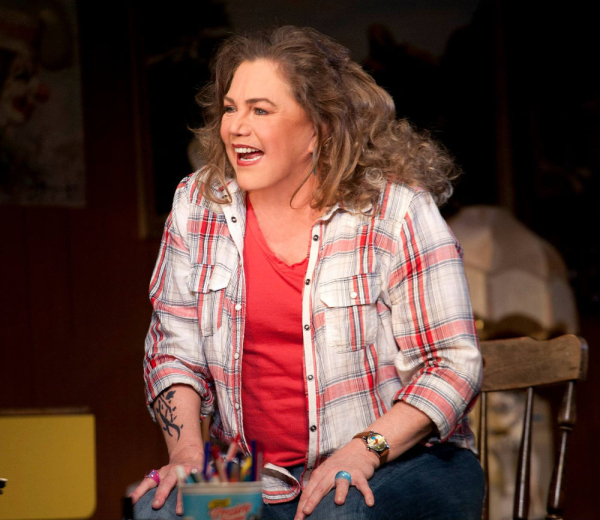 Michael Coveney
WhatsOnStage
★★★
Nobody does boozed-up raucousness like Kathleen Turner… Still, Polly Teale's production does then forge a series of tart, bruising, often funny exchanges on the meaning of art, the value of informed expertise … and the volcanic spirit of true creativity … the play is full of ideas and provocations. It's less convincing when it sags into physical violence and critical aggression. The characters can't possibly know each other well enough to carry on like neighbours in an Albee play, or worse. But it's great to see Turner still careering down an untended path of soggy emotional wipe-out, and McDiarmid bristling inimitably like a porcupine before being trampled underfoot by a gorgon.
Dominic Maxwell
The Times
★★★★
Back in the West End for the first time in eight years, Kathleen Turner reminds us what a genuinely compelling stage star she is in this nimble, rewarding, new art-world comedy about faith, fakes and first impressions… McDiarmid is a treat. Enthusing about Pollock's 'lariats of colour', he renders the painter's style in action, his body swirling around as if wielded by Pollock's own hand… Yes, at this short length it's impressionistic, finally offering more questions than answers about taste, expertise and artistry. No matter: this pithy, beautifully performed play put a smile on my face and kept my brain buzzing for a good while afterwards.
Henry Hitchings
Evening Standard
★★
… Turner's trademark huskiness here becomes something more like a rasping baritone. Maude is scarred by decades of boozy self-neglect, as well as family tragedy and failure, and Turner captures her uncompromising toughness. McDiarmid does a fine job of ensuring Lionel is a memorably monstrous snob, with a hint of vulnerability. Polly Teale's production makes the clash of personalities and cultures feel vivid, but Sachs's concern with authenticity (both human and artistic) means he is trying to mine the same territory as Yasmina Reza's wildly successful Art, without really digging that far into either aesthetic questions or psychological ones. For much of the play's 75 minutes the two characters merely seem to be restating their positions with increasing vigour. There are flashes of humour, but despite the strong performances Bakersfield Mist feels very slight.
Michael Billington
Guardian
★★★
The confrontation of Maude's downright earthiness with Lionel's patrician snootiness, reinforced in this version by his British background, is initially amusing. But I found it hard to credit that, within half an hour of his arrival, the buttoned-up Lionel would break down to reveal his inner demons to the extent of simulating his vision of Pollock ejaculating paint onto the canvas … Although the play is clearly an attack on the instant judgments we make on paintings or people, it strikes me as, in its own way, faintly patronising … The play is clearly on the side of Maude, who is driven more by passion than money, but it is sentimental to argue that she is more "real" because she is working class. Much as I admired the acting, Sachs' play, especially when compared with Bennett's multi-layered exploration of art and identity, strikes me as a load of Pollocks.
Charles Spencer
Daily Telegraph
★★★
We never actually see the canvas under Lionel's beady-eyed scrutiny, which strikes me as a shame, but the sight of him examining it and delivering his verdict is wonderfully funny. The play is also touching … McDiarmid brings a delicious sense of irony and preening self-regard to the role of the man from the art foundation, while suggesting a growing respect for the woman who has brought him to her home. And Turner gives a wonderfully wired and compelling performance as Maude, her voice a raucous rasp of Jack Daniel's and Camel cigarettes, but with an underlying sense of pain and vulnerability. In the final analysis Bakersfield Mist, neatly directed by Polly Teale and cleverly designed by Tom Piper, is too slight, and a touch too pleased with itself, to be fully satisfying. But, unlike the dubious picture at the play's heart, the performances are definitely the genuine article.
Paul Taylor
Independent
★★★
Kathleen Turner returns to the London stage as a character based on the real-life Teri Horton, an uneducated former truck driver who bought a splatter painting as a joke-present for three bucks from a junk shop only to discover that she might be sitting on a priceless Jackson Pollock… The ballsy outsider versus the snobby closed world of connoisseurship; so far, so clichéd. The trouble is that, as the unbroken 90-minute piece gradually reveals that Maude has a lot more emotionally invested in her tireless crusade for validation than the prospect of millions, it continues to trade in contrived and hackneyed devices … the odd couple double-act is conveyed with expert comic gusto by Turner and McDiarmid. But in its musings on different types of authenticity and value, the play is too compressed, glib and reliant on facile twists to be deemed the genuine article.