The Life of the Party (Menier Chocolate Factory)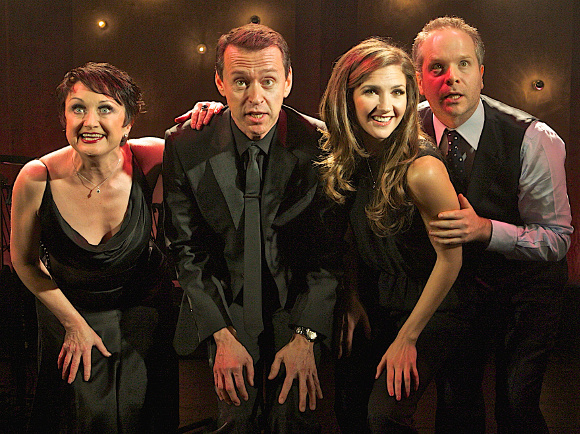 Composer Andrew Lippa, whose musicals include The Wild Party, Big Fish and The Addams Family, is best known on the other side of the pond for his shows, which have been produced on Broadway and across the states.
It's an interesting choice, then, for Menier artistic director David Babani to bring a celebration of his work to London. However, regardless of whether or not you're familiar with Lippa's music, the night doesn't disappoint.
Lippa narrates with style, interweaving tales from his life with background information about the songs we hear. He kicks off the show with "Marshall Levin", a comical ode to Sondheim, originally written for the composer's 80th birthday celebrations.
And then the party really begins, with the entrance of Lippa's special guests; Damian Humbley, Summer Strallen and Caroline O'Connor.
Strallen shows impressive versatility in her renditions, and the quartet blend beautifully, particularly in the Rigoletto-inspired "Poor Child", where Lippa has, as he points out, "out-Verdi'd Verdi".
Humbley, returning to the Menier for the second time in as many years following his unforgettable performance in Merrily We Roll Along, has effortless charm and comic agility combined with one of the best voices in musical theatre right now. He easily switches from a harsh nun (Sister Severia) to a moon-worshipping Uncle Fester to a baseball-mad youngster amongst many others.
O'Connor completes the quartet, bringing a touch of old-school glamour to the proceedings. She strikes a chord with her moving interpretation of "Love Somebody Now", and makes for a deliciously morbid Morticia of the Addams Family.
Morgan Large's sleek set complements the evening nicely, with references dotted around to the songs being sung, and is aided by artful lighting design from Tim Lutkin.
Highlights of the show include a rip-roaring performance from Caroline O'Connor of "An Old-Fashioned Love Story" from The Wild Party, which brought the house down, a hilarious turn from Summer Strallen as Cinderella-cum-dominatrix in "Cindy" ("Snow White and her seven elves/Came in last week just to beat themselves"), and two of the songs from Lippa's most recent Broadway show, Big Fish; "Be the Hero" and "Fight the Dragons", performed with heartfelt intensity by Lippa and Humbley.
A nod must also go to the outstanding musical direction of Andy Massey who, along with his band comprising Debs White, Rachel Robson and Hannah Ashenden, sets the stage alight with Lippa's songs.
As is often the case with revues, some songs don't quite strike the same emotional notes as others, but the musical dexterity that Lippa showcases is impressive.