The Ballad of Truman Capote – Edinburgh Fringe review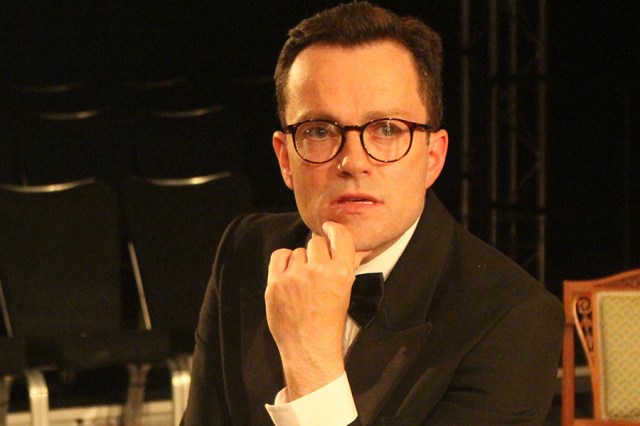 There are plenty of shows about famous people at the Edinburgh Fringe – but only one that's written in ballad form.
Andrew O'Hagan's new play about the man who found literary stardom with Breakfast at Tiffany's and In Cold Blood has a stylishness worthy of Capote himself, its lines landing with elegant precision and searing insight into the loss and insecurity beneath the polished prose.
The play, which O'Hagan also directs, imagines Capote in his room at the Plaza Hotel on November 28, 1966, the night he hosted the famous Black and White Ball, the hottest ticket in town, a party "for all my favourite monsters."  At the height of the Vietnam War, politicians, power brokers, film stars, artists, writers and all manner of wannabe celebrities fought for entrance to this spectacular event.
And here is Capote – "I'm just a sweet boy from the South" – on the telephone, fending off gate crashers, revelling in his power as an arbiter of taste and acceptance.  Immaculate in tuxedo and heavy-framed glasses, Patrick Hoy shows us the way he slowly gets drunker and sadder as he flits between the phone, the cocktail tray and reminiscence, building a picture of the great act of self-invention that brought him to this place.
The script is full of vivid images, and biting lines.  "The English spout morals like so much cold tea," Capote opines at one point.  He's vicious about other writers: Harold Pinter is "a gangster in an undertaker's dress"; Arthur Miller "pink as a marzipan pig."  He refuses entry to the best-selling author Jacqueline Susann on the grounds that her writing is so bad it makes "Gore Vidal look like Tolstoy."
A lot of this is sharply funny and Moy delivers it with relish, catching both Capote's strangled high-pitched tones but also the guttural laugh that undercuts his name, a sudden drop into a less-manufactured self that reveals just how far he has come since he first picked up a notebook and pen and started to describe the world around him at the age of five.
"My early success was a cry for help," he says, and the play's strongest meat comes in the way it explores what it takes to be a writer, its ability to isolate as well as reveal.  Capote argues that a writer must have a sense of evil if they are to understand human beings, but he is also constantly searching for "the ascending power" – "the magic thing that takes it off the page and transports you …in and out of the dark."
This, combined with the increasing sense of what his search for fame costs Capote, how it hollows him out from the inside, gives the monologue unusual depth and reach.  It's a resonant, richly revealing hour.