Stars of La Cage aux Folles discuss how the musical resonates with the queer culture and politics of today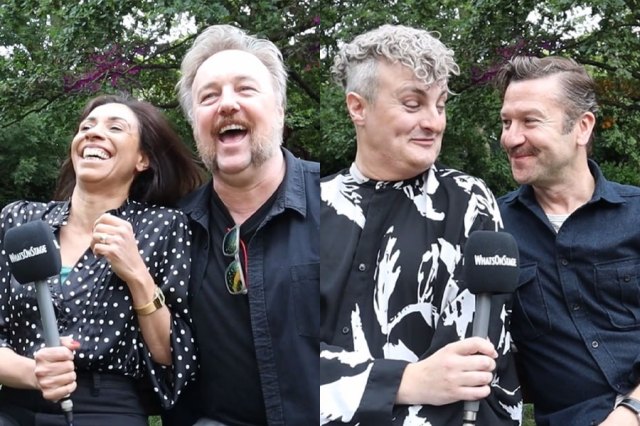 Timothy Sheader's final venture as artistic director of Regent's Park Open Air Theatre is arguably as fabulous as it is poignant and timely. As the fight for trans rights continues to make headlines around the world, the decision to revive the 1983 musical La Cage aux Folles (which took home six Tony Awards) for a 40th anniversary production feels perhaps as welcome as it is necessary.
We recently sat down with four of the show's cast – Carl Mullaney (who plays Albin), Billy Carter (Georges), Debbie Kurup (Jacqueline) and John Owen-Jones (Edward Dindon) – to get their thoughts on the felicitous revival:
The cast also features Ben Culleton (as Jean-Michel), Julie Jupp (as Marie Dindon), Shakeel Kimotho (as Jacob), Sophie Pourret (as Anne), Jak Allen-Anderson (as Hanna), Craig Armstrong (as Cagelle), Tom Bales (as Cagelle), Taylor Bradshaw (as Cagelle), Daniele Coombe (as Mme. Renaud), Jordan Lee Davies (as Chantal), Nicole Deon (as Ensemble), Lewis Easter (as Cagelle/Swing/Dance Captain), Harvey Ebbage (as Cagelle), Emma Johnson (as Ensemble/Swing), George Lynham (as Cagelle), JP McCue (as Cagelle), Rishard-Kyro Nelson (as Cagelle/Swing), Alexandra Waite-Roberts (as Ensemble) and Hemi Yeroham (as Francis).
La Cage aux Folles features a book by Harvey Fierstein, a score by Jerry Herman (including classics such as "I Am What I Am" and "The Best of Times"), and is based on the play by Jean Poiret. It follows a gay couple whose son is about to marry a woman with ultra-conservative parents.
Alongside Sheader as director, the creative team also includes Thyrza Abrahams (associate director), Amy Ball (casting director), Arthur Carrington (associate casting director), Guy Common (make-up designer), Ryan Dawson Laight (costume designer), James Hassett (associate sound designer), Howard Hudson (lighting designer), Nick Lidster (sound designer), Ingrid Mackinnon (season associate – intimacy support), Stephen Mear (choreographer), Ebony Molina (associate choreographer), Janis Price (voice and text director), Colin Richmond (set designer), Tom Slade (assistant musical director), Ben van Tienen (musical director) and Jennifer Whyte (musical supervisor).
La Cage aux Folles continues at Regent's Park Open Air Theatre until 16 September 2023, with tickets on sale below.