RSC announces casting for queer cowboy show Cowbois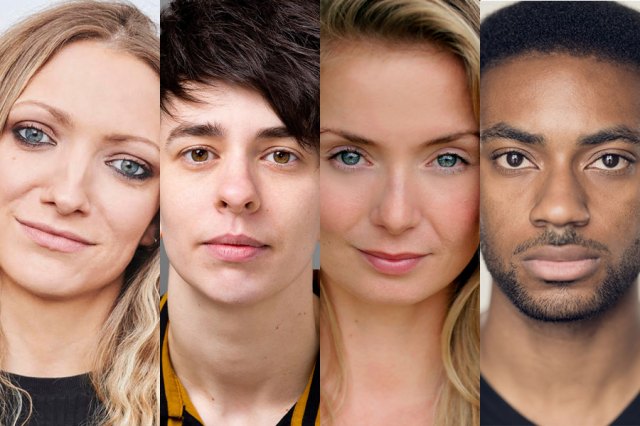 The Royal Shakespeare Company has revealed casting for the upcoming production of new play, Cowbois.
Written by Charlie Josephine (they/he) and co-directed by Josephine and Sean Holmes (he/him), the piece is set in a sleepy, Wild West town, where a handsome bandit known as Jack Cannon, a trans masc cowboy, swaggers up to the saloon and inspires a gender revolution.
Josephine commented: "Cowbois a big queer cowboy show. It's full of everything you'd expect from a Western, but our lone ranger – Jack Cannon – is a gender outlaw who fights patriarchy and inspires a revolution in a town full of women. It's an exploration of honest desire in bodies assigned female at birth, when they're free from the male gaze and given the chance to be their authentic selves.
"I love cowboys, and wanted to be one growing up. There's something about the iconic gesture and pose of a cowboy, the sexiness, the swagger that I used as the inspiration for the character of Jack. I also wanted to disrupt the Hollywood version of cowboys: the white cis straight men who are often misogynistic and racist. Instead, I wanted to write about sexy trans masculine cowboys and queer working-class women.
"There's not enough theatre by, for and about working-class women and queer people. I hope people coming to watch this show feel empowered seeing these characters on this stage. I hope people have some interesting chats about patriarchy, gender and freedom after seeing it. And of course, I hope that everyone will have a great night out!
"Cowbois is an exploration of masculinity, power and freedom. But moreover, it's a love letter to the trans masculine people in history whose stories have been ignored or erased."
The cast includes Bridgette Amofah (she/her) as Mary, Lee Braithwaite (they/them) as Lucy/Lou, Shaun Dingwall (he/him) as Frank/Tommy, Michael Elcock (he/him) as George, Colm Gormley (he/him) as John, Vinnie Heaven (they/them) as Jack, Paul Hunter (he/him) as Sheriff Roger Jones, Lucy McCormick (she/her) as Jayne, Sophie Melville (she/her) as Miss Lillian, Julian Moore-Cook (he/him) as James, Emma Pallant (she/her) as Sally-Ann, and LJ Parkinson (they/them) as Charley Parkhurst. The role of Kid will be shared by Robert Addi (he/him), Aiden Cole (he/him) and Alastair Ngwenya (he/him).
Holmes said: "Charlie and I are delighted with this exceptional cast for our upcoming production of Cowbois. They are a brave, clever and creative collective, and we look forward to having lots of fun making a bold, provoking and entertaining show together."
Alongside Josephine and Holmes, the creative team also features designer Grace Smart (she/her), lighting designer Simeon Miller (he/him), composer Jim Fortune (he/him), sound and soundscape designer Mwen, movement director Jennifer Jackson (she/her), fights and intimacy director Bethan Clark (she/her), dramaturg Rebecca Latham (she/her), casting director Martin Poile (he/him) and children's casting director Charlie Metcalf (she/her).
Cowbois runs at the Swan Theatre from 14 October to 18 November 2023, with a press night set for 24 October.