Review: Rothschild & Sons (Park Theatre)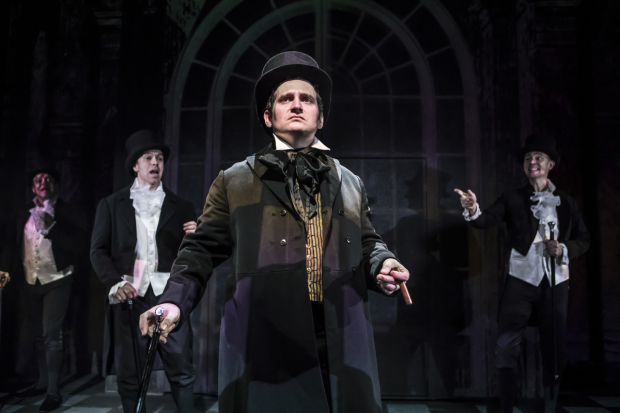 Although new to London, Rothschild & Sons is a reworked version of The Rothschilds, a moderately successful 1970 Broadway musical by Jerry Bock (music) and Sheldon Harnick (lyrics), the team who created She Loves Me and Fiddler on the Roof. Like the latter show, Rothschild & Sons centres on an embattled Jewish patriarch given to soliloquising in song as he steers his wife and quintet of offspring through a time of seismic change. However, whereas Tevye, the shtetl-dwelling milkman of Fiddler revels in religious tradition and seeks to preserve it at sometimes painful cost, Mayer Rothschild (Robert Cuccioli, a holdover from the 2015 off-Broadway staging) deeply resents the social and financial constraints his faith places on him in rampantly anti-Semitic 18th century Germany, and will do whatever it takes to get out of the ghetto.
The real-life Rothschild family went on to become one of the richest in Europe and their name is still synonymous with extreme wealth. Sherman Yellen's slightly pedestrian book depicts the rags-to-riches story with economy and clarity, some humour, but little excitement. It seldom catches dramatic fire, partly because the characterisations lack depth but also because the single-minded pursuit of money and power do little to endear the principal figures to us. There is an open-hearted emotionalism to Fiddler and indeed She Loves Me that is noticeably lacking in this watchable but infinitely chillier piece.
That's not to say that there isn't an awful lot to enjoy: Bock's music – skilfully re-orchestrated for a tiny but perfect band of four under the capable direction of Ben van Tienen – has an evocative middle-European quality, and boasts some delightful tunes, while Harnick's lyrics are fresh, truthful and often witty. If there is a standout song, it's the anthemic In "My Own Lifetime", which Cuccioli's terrific baritone raises to the rafters.
In his UK debut, Broadway veteran Cuccioli cuts a broodingly handsome figure and has charisma to spare, even if he doesn't quite suggest the tempestuous volatility that the script refers to. In the underwritten role of his beloved wife Gutele, Glory Crampton – also from the 2015 New York production – is a striking, magnetic presence although she is required to spend too much of the evening standing by looking supportive and disapproving while the men get on with the story. She sings with passion and makes one long to see her in a more challenging role. Gary Trainor is superb as wildcard son Nathan who goes off to London to consolidate the family fortune, and Tony Timberlake is a lot of fun as a couple of wealthy authority figures Rothschild uses to improve his lot.
Jeffrey B Moss' slick, well sung production is, I think, sumptuously mounted but it's hard to be entirely sure as it's so dimly lit. Video and projection are subtly used to indicate changes of location and Richard Mawbey's exquisite wig designs do much to convey the passage of time.
The perfunctory nature of the book means that Rothschild & Sons ultimately gives the impression of being more a documentary with some – admittedly often gorgeous –
songs thrown in rather than a true dramatic musical. However, it is still a pleasure to encounter an attractive but unfamiliar score and to watch performers of the calibre of Cuccioli, Crampton and Trainor up close.
Rothschild & Sons runs at the Park Theatre until 17 February.