Northern Stage face the naked truth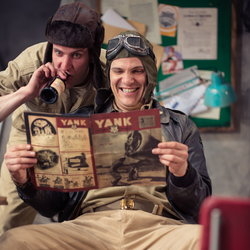 As Catch 22 nears the end of its run before starting a national tour the Box office at Northern Stage have been busy contacting people who have already booked tickets. The reason being they were unaware the show would contain a nude scene. The Box Office had been unaware of the six minute scene (where one actor strips naked then climbs on top of the aircraft on stage , sitting mostly crossed legged, before climbing down and dressing ) when selling tickets until the production began. The show is billed a suitable for over 14 year olds but now has an extra warning about the nudity.
Catch 22 continues at Northern Stage Newcastle until 10 May 2014.