Catch 22 (Northern Stage)
Joseph Heller's Catch 22 is an iconic piece of work, which has been transferred to the stage previously with limited success. To be honest, trying to cut such a complex book down to a stage version and having to cut a lot of characters to do so is bound to affect the end result, but this Northern Stage production does have a lot going for it. Such as director Rachel Chavkin, who makes the cast work very hard as they brilliantly swap characters in the blink of an eye.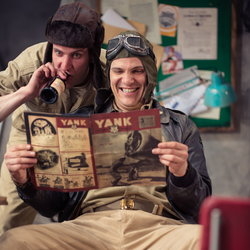 The play revolves around Captain John Yossarian, a bombardier desperate to survive, so he pleads insanity in order to get out of flying any more missions. However, this is viewed by the army as proving his sanity, as if he flew more missions he would be insane. Damned if you do, dammed if you don't – Catch 22.
All the cast excel and I cannot recall a better performance from Michael Hodgson, as Colonel Cathcart. While as the central character Yossarian, Philip Arditti handles the long nude scene with ease.
Designer Jon Bausor creates a stunning set, with a large aircraft filling the stage. The walls are corrugated iron and large windows complete the back wall so we feel we are sitting in an aircraft hanger. When missions take off, you vibrate in your seat as the planes fly over-head.
There are, surprisingly, many laughs in the show and great interaction between the characters, but it's a long haul at well over three hours. I doubt if it's ever possible to do justice to such an iconic piece of writing by transferring it to the stage and having to make so many cuts to do so, but there is no harm in trying.
Catch 22 continues at Northern Stage until 10 May 2014,before embarking on a national tour.