My Top 5 Showtunes: Zoe Rainey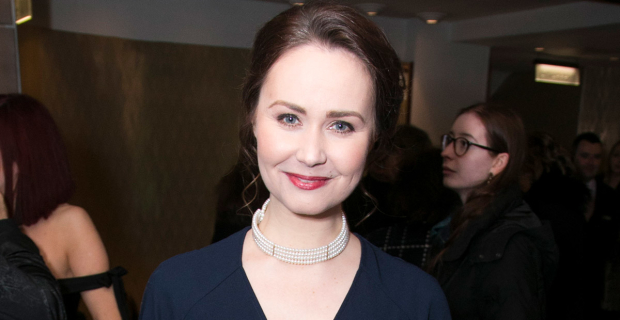 Zoe Rainey currently stars as Lois in Opera North's touring production of Cole Porter's Kiss Me, Kate, which opens at Leeds Grand this month ahead of a run at London's Coliseum in June. She was most recently seen onstage in the West End production of An American in Paris, which is to be broadcast in cinemas on 16 May. Previous credits include Kenneth Branagh's Romeo and Juliet, Harlequinade and The Winter's Tale, both at the Garrick Theatre, and the UK premiere production of Parade at the Donmar Warehouse.
We caught up with Zoe and asked her: "If you were stranded on a desert island which five showtunes could you not live without?"
---
1. "She Used To Be Mine" from Waitress
I saw Alice perform this live at the WhatsOnStage Awards this year and it was completely wonderful. Not only did it make me fall in love with the song but it was performed so brilliantly that it blew me away. It's now on repeat on my iTunes.
2. "I Love A Piano", "Snookey Ookums" and "The Ragtime Violin" in Easter Parade
Growing up this was one of the few videos my grandparents owned so it was regular Sunday viewing while the adults chatted in the other room after dinner. This scene is etched in my memory and that purple outfit with pumps is still a goal in life. These two are Hollywood gold for a very good reason and this medley proves exactly why.
3. "Sh'ma/Finale" from Parade
This was one of the most life-changing jobs I have had. A truly special experience for all of us involved in this production. Every time I heard the drums which started the show it sent chills down my spine and I beamed knowing how lucky I was to be performing in it. Hearing Stuart Matthew Price's voice soar like silk…!! I have chosen the last song of the show as it ends exactly how it begins, with the drums and it is so powerful! A blackout on the last beat! Bertie Carvel and Lara Pulver led our company so beautifully and you can hear their sheer talent in this track. So proud to have been a small part of this.
4. "Seasons of Love" from Rent
When I was 17, I knew every single word of this double-CD album. To be honest, I'm pretty sure I still do. Answering machine messages and all! I chose "Seasons of Love" because it was the song that first got me invested! What a song! I could listen to it all day!
5. "But Not For Me" from Girl Crazy
When I did An American in Paris, David Seadon Young and I sang a mash-up of "But Not For Me" and "Shall We Dance". This was when it was confirmed as my favourite Gershwin song. I had to include Gershwin as I adore his music and I think Ella Fitzgerald's version of this could help you fall in love again and again. Picture dancing in the arms of your loved one in your living room.