LUNG Theatre's Woodhill at Shoreditch Town Hall – review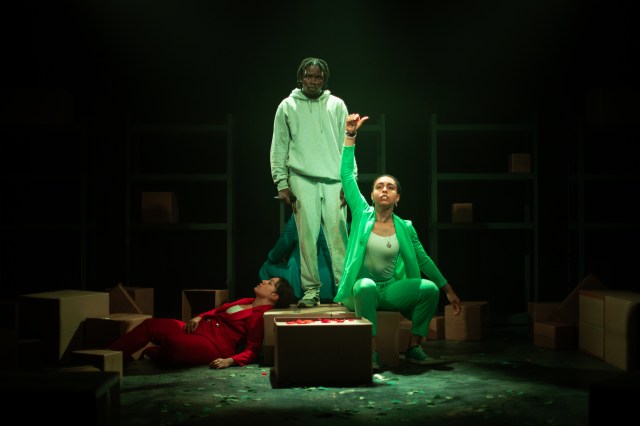 HM Prison Woodhill, a men's high-security prison and young offender institution just outside Milton Keynes, has been deemed "fundamentally unsafe" in the last few months. It has been the site of a huge number of self-inflicted prisoner deaths. LUNG Theatre's latest verbatim show, Woodhill, illuminates some of the prison's recent history and does the crucial work of re-humanising three of the men – boys – who died at there. Through interviews with families, staff, previous inmates and others who have come into contact with Woodhill, LUNG shows us how the justice system works to forget that behind prisoner numbers and statistics are individuals, real people. Through the play, writer-director Matt Woodhead and his team undo the work that the system does to forget these young men, reminding the audience of the importance and uniqueness of each human life.
The play begins by following Janet, Lee, and Carol, each of whom has had a family member – Stephen, Kevin, and Chris, respectively – die at Woodhill, as they try to understand how these deaths happened. The three are played by separate physical and audio casts, allowing for an unnerving separation between body and voice, with the sound often completely overwhelming.
These narratives are regularly (and randomly) interrupted by loud prison alarms, giving way to excerpts from interviews with various residents, staff, volunteers, academics, architects, and lawyers who have come into contact with the prison system, while overhead lights glare down on the performers. The lighting and sound design serve the text brilliantly and horribly here. Both the audience and the characters onstage have their experience entirely at the whim of these moments, unsure when we might be interrupted and when we might have peace. It is an intelligent way of letting us feel like prisoners, without cheapening what that means.
Following the families like this, Woodhill as a play explores not only politics and injustice, but also grief. The men who have died haunt their families and the play, sometimes more literally, with both audio and physical casts rounded out by a Ghost. Between narratives and interviews, audio actor Corey Montague-Sholay speaks the names of 33 of the men who have died at Woodhill, while Stanley Duventru-Huret onstage throws dust, and then confetti, into the air. One of the strengths of Woodhill is how it respects its audience, informing without patronising. It does not rely on exposition, and instead confidently shows us images, trusting that we will catch up with them later. It is only towards the end of the play, as Janet, Lee, and Carol attend their boys' funerals, that we realise that the dust and confetti have a more poignant underlying meaning. The whole play has been an act of mourning and memorial, to which we have all borne witness.
Woodhill then presents an incredibly important issue – the failure of the UK prison system to keep the population, either in or out of incarceration, safe. The show lingers on moments of abolitionist possibility, showing that prisons do not achieve justice or rehabilitate, and that in a better society, offenders might be treated with kindness and offered support. LUNG has created something impressive and rare here: a piece of theatre ambitious in both political aim and artistic achievement.