And introducing… LUNG: the verbatim theatre company telling the stories that have been drowned out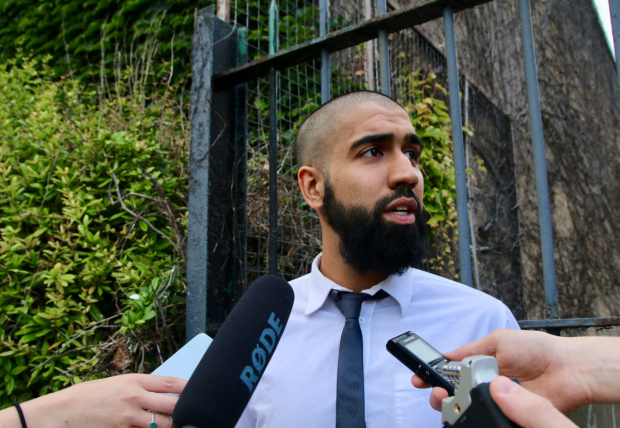 It's a brave young company that takes on a subject as contentious as the Trojan Horse affair. In 2014, leaked documents suggested a plot to infiltrate and Islamicise secondary schools around Britain – a strategy, the letter said, already "tried and tested in Birmingham". The leak was fake, but it left a real stain: hundreds of headlines, government reports, parliamentary hearings. The idea of segregated schools pedalling extremism took hold in the public perception: Operation Trojan Horse cropped up in UKIP's 2017 manifesto.
Helen Monks and Matt Woodhead, both 25, are pushing back. LUNG Theatre's latest verbatim show, opening at the Edinburgh Fringe this week, aims to get overturn assumptions that have crystallised around the issue. "People have been fighting for control of the story", Woodhead says – politicians, councillors, columnists all. "The narrative's almost been frozen in time. We have a duty to present a counter to that."
They use the stage as a megaphone, aiming to "amplify" voices that have been drowned out
In just five years, LUNG has proven itself a courageous, campaigning theatrical force. In E15, it took up the cause of the women battling eviction from the Carpenters Estate in Stratford. At Battersea Arts Centre, protesters paraded up Lavender Hill pre-show. Who Cares? gave a voice to young carers, struggling against social support cuts. If verbatim theatre tends towards balance, LUNG tips the scales – unashamedly partisan. They use the stage as a megaphone, aiming to "amplify" voices that have been drowned out.
Writer-director Woodhead and Monks, best known for playing Caitlin Moran in Channel 4's Raised by Wolves, founded the company in their final year at Sheffield University. They'd been running free workshops and showcases in response to local arts cuts, giving schoolkids a platform to perform, when they decided to start making their own work – work, as Woodhead says, "that has real people at the heart of it".
Their first show, The 56 , tackled the 1985 fire at Bradford's Valley Park stadium that killed 56 fans. "We hit on verbatim theatre by accident," says Woodhead. "The only way we could tell that story was using people's own words." The show gave space for a survivor to read the roll call of victims' names each night. Audiences were dotted with amber and maroon football shirts. "People travelled five hours by train to be there."
There can be a crudeness to LUNG's work. Verbatim isn't without its problems – the invisibility of editorial hands, the appropriation of narratives, the impossibility of truth onstage – and LUNG's shows lacks the self-awareness of, say, Alecky Blythe's recorded delivery. They tend to serve testimony straight.
LUNG aim at the truth onstage but they do so by picking a side
In a sense though, that theatrical naivety is the company's greatest asset, letting them step up to stories that need telling without becoming bogged down in reflexive wrangling. "We don't ever sit down and think theoretically about it," Monks says. "We're just really focused on the story we're telling and how to tell it best."
LUNG still aim at the truth onstage (everything in Trojan Horse has been triple checked), but they do so by picking a side – a theatre that gets stuck in, more activist than political. "We always make the play for the people it's about," says Monks. "You want it to reflect their truth back at them." For better or worse, it feels very contemporary at a time when truth is contested and the line between overlooked fact and fake news is thin as a thread.
Collectively, though, LUNG's body of work adds up to something bigger – a picture of Britain as a nation. Its chosen subjects feel like flashpoints that define the fabric of our society: the Chilcot Inquiry, the housing crisis, austerity cuts. With its echoes of Hillsborough, The 56 felt symptomatic of ingrained social attitudes, just as Trojan Horse, divisive as the subject is, cuts to the roots of rising tensions around race and multiculturalism. "If you look at every single play, the issues are really relatable," Monks insists. "We want to tell British stories that aren't being spoken about enough."
Trojan Horse runs at Summerhall from 1 to 26 August, at 3.15pm