City of Angels (Donmar Warehouse)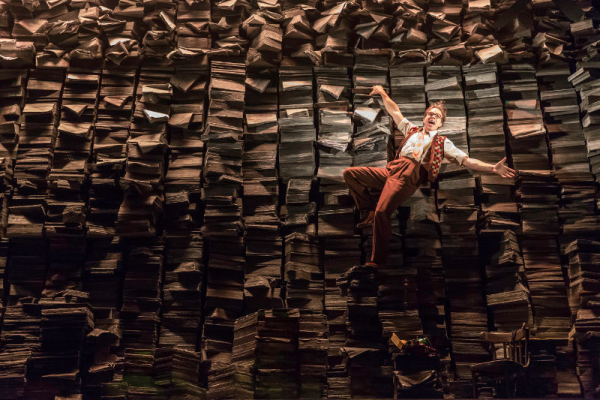 As long as you like jazz, film noir, witty lyrics, clever lighting and a two-layered plot so fiendishly complicated you might go cross-eyed trying to keep up, then City of Angels, a truly original musical (dating from 1989), is the show for you.
I'm half way there, rejoicing in the cast of Josie Rourke's efficient revival which includes Rosalie Craig as a femme fatale with the most gorgeous cascade of red hair, Katherine Kelly as a gold-digger with a half-dead husband and a missing daughter, Samantha Barks as a couple of slinky dames and Peter Polycarpou as a Hollywood producer who's been through de Mille and had it with writers.
Their stories are squeezed like toothpaste through a libretto by Larry Gelbart in which a Chandleresque screen-writer Stine (Hadley Fraser) appears in Technicolor while his private dick, Stone (Tam Mutu, managing miraculously to resemble both Burt Lancaster and Humphrey Bogart), inhabits the black and white 1940s film Stine's writing.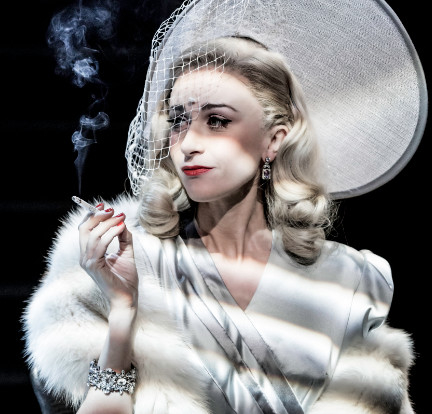 Stone is hired to trace the missing girl ("For a missing girl, there was not a whole lot missing") by her seductive stepmother while Stine in embroiled in a marital crisis of his own while traducing his own talent – his words run across the set like ticker tape and are scrolled backwards (with matching body movements) when re-written – to create a movie that will make his name.
In a sense, the show is a writer's revenge – Gelbart had been fired by Dustin Hoffman on Tootsie, and was still smarting – referencing the Hollywood careers not only of Chandler but also Scott Fitzgerald and William Faulkner. And this doppelganger tradition of unhappy author and enslaved character is taken to new and ingenious heights.
Literally so at the Donmar, where Robert Jones's split-level design (lit by Howard Harrison), isolates Stine in a loft of decrepit, greying scripts before dragging him down below to put the colour in his cheeks, and his costume. This is a big show in a tiny space (for a specialist, not a popular, audience), a bespoke musical that allows you to sample intricate lyrics ("If you're not celibate, we could raise hell a bit") that sometimes still seem sticking on the page.
There's another element, too: the entwined narrative is presented as a floor show with a cheesy nightclub singer (Tim Walton) and a wonderful hand-picked close harmony backing quartet (Sandra Marvin, Jennifer Saayeng, Kadiff Kirwan, Jo Servi) and the action is amusingly disrupted by Nick Cavaliere and Adam Fogerty as a couple of hoods, one small and globular, the other as big as a house.
Craig as Stine's wife (also whore and nightclub singer) discharges one of the best numbers, "It needs work," with a ferocious critical attitude but it's Barks who walks out the door in torch song triumph. I loved Michael Blakemore's original Broadway production – I thought at the time City of Angels was one of the best musicals I'd ever seen – but love changed to admiration in London in 1993, and the show hasn't grown back on me since. It's a collector's item, showing a smokier, jazzier side of composer Cy Coleman, who wrote Sweet Charity and Barnum, and a real eye-opener on debutant lyricist David Zippel, who's done nothing as good, or as tricky, since.
City of Angels continues at Donmar Warehouse until 7 February 2015. Over a quarter of the tickets have been held back, allowing for more than 550 tickets to go on sale each week, including Barclays Front Row and Day Tickets.