Tree of Codes (Manchester International Festival)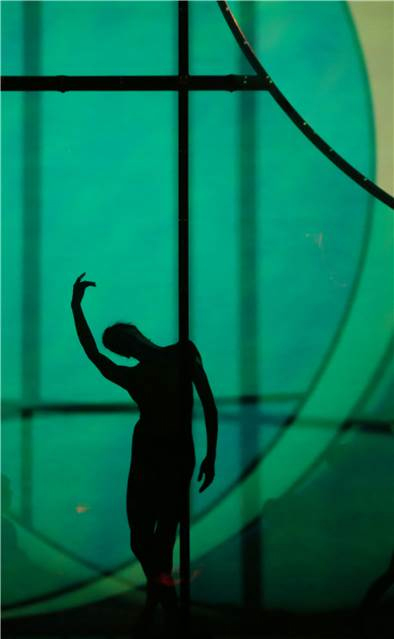 Wayne McGregor's new ballet – co-commissioned by Paris Opera Ballet and Sadler's Wells, among others – is a sensational fusion of dance, light, music, sound, optical trickery and moving mirrors. It starts in the dark, with percussive clapping and darting fireflies.
This is a tantalising "black theatre" effect as bodies emerge as if from a chrysalis, hands thrusting through – what are they? – lampshades, cocktail umbrellas? – possibly nude but, we now see, in flesh-coloured sports lingerie. An initial pas de deux is replicated in receding mirrors, all nine dancers joining in, at once corporeal and shadowy, drawn out by the insistent, turbulent music of Mercury Music prize-winner Jamie XX.
What is the narrative? Is there one, apart from a dynamic accumulation of duets, then trios, moving in this cocoon of mirrors on a kaleidoscopic axis of gyrations and permutations? The dancers seem both trapped and liberated in their situation. Suddenly, a single line of text: "We were so in love, we didn't know what to do."
Of course it's only in writing about the show that you feel compelled to try and make sense of it. As always in pure dance, an audience is engaged in a series of sensual and physical responses that defy analysis. The "visual concept" of mirrors, arc-like parabolas, exploratory lighting – audience members are picked out by a spotlight, their faces bounced back at us off the mirrors – and rotating instruments, like parts of a dismembered astrolabe, is the work of the Danish artist Olafur Eliasson.
But not for one minute do you feel the dancers are alien or subordinated to this setting. They inhabit it organically, as though part of the scientific instrumentation themselves. Their musculature and movement is endemic to the whole process of expression, which is now fluent, now robotic, and curiously preordained by the beat and the rhythm of the soundscape.
The title of the piece comes from an art book of cut-outs, holes and paste-ups by Jonathan Safran Foer, itself a response to the surreal narrative The Street of Crocodiles by Polish author Bruno Schulz, murdered by the Nazis in 1942. The prompt for McGregor comes from the fact that Simon McBurney made a stage adaptation of the book for an opaque but unforgettable Complicite production of 1992: that was a compilation of Kafkaesque nightmare stories hard-wired into the Great Polish theatre of Witkiewicz, Gombrowicz and Tadeusz (Dead Class) Kantor.
The ballet polishes modern dance movement with an hypnotic and never gratuitous classical finesse, but is neither an interpretation of Schulz/Foer nor a response to Complicite: it is a further leap away from both, an abstraction in cages and circles, in mirrors and movement, of a sort of yearning that is fired, it seems, by as much fear as love. It is one of the most beautiful dance pieces I've ever seen, and I can't wait to see it again.
Tree of Codes is at the Opera House, Manchester, until 10 July. Click here for more information and to book tickets.