Tosca (Royal Opera House)
Jonathan Kent's 2006 production of Puccini's 'shabby little shocker' (set, rather controversially, in the time and place of the opera itself!) has proved one of the Royal Opera's hottest tickets in recent years. Broadcast by the BBC several Christmases ago and filmed for an award-winning DVD starring Angela Gheorghiu, Jonas Kaufmann and Bryn Terfel, this Tosca is already on its fifth outing at Covent Garden. On the first night of Andrew Sinclair's revival, alas, the phoenix never quite succeeded in rising from the flames.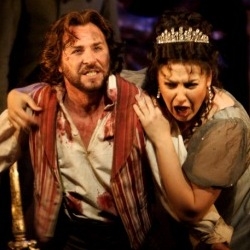 In her Royal Opera debut, Oksana Dyka made only a lukewarm impact as the eponymous diva. Her metallic soprano with its wide, fast vibrato might not be the most ingratiating around, but there's certainly plenty of it. Unlike some of her famous predecessors in this production she was never engulfed by the orchestra in the dramatic outbursts of Act Two, and the top and bottom of the voice have real bite. However, nothing about her rather ungainly stage-presence conveyed the magnetism which captivates Cavaradossi, enraptures her public and drives Scarpia to "forget God". Her acting veered between a sort of generic imperiousness and a series of flails and grimaces, and her final fatal leap was more of a tentative teeter.
Singing Scarpia throughout the early performances following the late withdrawal of Thomas Hampson, Marco Vratogna brings a certain lithe menace to the corrupt police-chief's more introspective moments, but wasn't sufficiently vocally or dramatically imposing in a house of this size – his crucial first entry lacked the terrifying impact it needs, and he sounded dry and prone to barking in the long arc of the second act. As with Dyka, an over-reliance on broad, old-school operatic gesture meant that the dark chemistry between their two characters never truly ignited, and very nearly tipped the death-scene into risible melodrama.
Unsurprisingly, the finest singing of the evening by far came from Roberto Alagna's Cavaradossi, golden-toned and ardent, and lacking only the last degree of nuance to be truly sensational. If this production has seen more mesmerisingly introspective accounts of "E lucevan le stelle", he was tender and mellifluous in the love-music, and packed quite a punch on his famous outburst of "Vittoria!" in Act Two. Dramatically, he was perhaps more convincing as the exuberant young lover of the first act than the defiant political prisoner of the last two; but his acting was unfailingly committed throughout, despite Ms. Dyka's apparent awkwardness in the love scenes.
On an evening where two-thirds of the central triumvirate were dramatically inert, it was a pleasure to see the smaller roles so beautifully characterised. Michel de Souza's furtive, desperate Angelotti, Michael Clayton-Jolly's suitably unmanicured Shepherd Boy and Jeremy White's ebullient veteran Sacristan all excelled.
At the helm, conductor Oleg Caetani never seemed fully in control. Much of the edginess of the early scenes spoke of poor stage-pit co-ordination rather than dramatic intention, and the three principals often appeared to be playing catch-up (most noticeably in the curiously rushed opening of "Vissi d'arte", though it was unclear whether It was actually Caetani or Dyka doing the pushing here).
Slightly more shabby than it was shocking on this particular evening, I'd recommend catching this revival later in the run when Sondra Radvanovsky takes over the title-role, with Bryn Terfel and Lucio Gallo returning (on different dates) as Scarpia and Plácido Domingo taking up the baton.