To Have and To Hold at Hampstead Theatre – review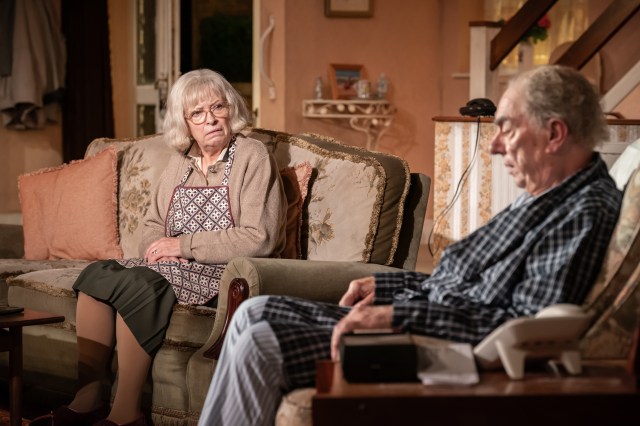 Prolific writer of smash hit farce and James Corden-abetter One Man, Two Guvnors, Richard Bean here turns over the Hampstead Theatre's stage to a savage yet fond Yorkshire mystery. Co-directed by Richard Wilson and Terry Johnson, and featuring the similarly high calibre Alun Armstrong and Marion Bailey as a couple in acrimonious harmony at an advanced age, To Have and To Hold's comedy is as sharp and sprightly as its characters.
Jack Kirk (Armstrong) is 91, as he frequently proclaims, an ailing but formidable ex-copper still puttering along with wife Florence (Bailey) in the east Yorkshire village of Wetwang. Though his health increasingly throws Florence's future into question (he has among other things, as she refers to it, an "enlarged prostrate") and brings their children down for a visit from their respective southern boltholes of success. James Cotterill's gorgeous, earth-toned and detailed naturalistic set shows us a home dearly lived and loved in. There's no mistaking those recliners.
Bean is unsparing in his depiction of the loving double bind in which adult children often find themselves with ageing parents, both cringing at and tickled by their well-established foibles. The family feels the children to have grown beyond them, into affluence and alien accents: there's a longing and an embarrassment barely repressed on both sides across class and geographical distance. High-powered private healthcare businesswoman Tina (Hermione Gulliford), now a Somerset transplant, charges her Tesla by running a power cable through the window; TV and book writer Rob (Christopher Fulford) splits his misanthropic time between London and the States.
Neither make it home often. "At the rate you visit, twice a year, you'll see your mother ten times before she dies," Jack observes ("How long's he giving me?" asks Florence). Bean is smart on questions of responsibility and what's owed to each other. Local Pammy (Rachel Dale) does the Kirks' shopping and snipes openly at Tina and Robert for their absence, while Rhubarb Eddie (Adrian Hood, whose height the directors frame in the front door beautifully) is a cheerful odd-job man trusted with making withdrawals from the couple's joint account. He's already lucked into their allotment, Rob and Tina seethe.
He's of Jack and Florence's world in a way the kids aren't anymore, despite his mainstay Motörhead T-shirt: he's well acquainted with Jack's gripping, charming stories of his years on the force, which Rob has been urging him to let him record for posterity. There's the sense of Rob, with his detective fiction, having grown up in the image of his real-deal dad, to ambiguous fulfilment. He and Tina are difficult to enjoy, childish and glib in this quippy world but also steely. They have more than their parents but are still avaricious, impressively and accurately annoying.
Jack and Florence, on the other hand, are irresistible: Bailey has less to do than Armstrong, but her fierce Florence is endlessly spry for a woman who mixes her daughter and son up constantly and needs the names of people she wants to reference coaxed out of her via elaborate guessing games. Her every line has a grim relish. Armstrong, his glorious eyebrows perhaps even more enhanced, suggests a tiny, peery, furious Smallfilms puppet. His storytelling interludes hold the entire audience in stillness, audibly tutting or wincing in sympathy along with the fortunes of murderers or victims he recounts. Bethany Gupwell's lighting expands and contracts the space gorgeously for these moments, expressing time of day nimbly at other points.
Bean knows we want Jack and Florence's unstoppable rancour to break and let us see the affection which must, surely, be underneath. He withholds it from us almost as he does from the children, in all but the most restrained moment. It's wise, but To Have and To Hold also feels slightly rough around the edges, both endearingly so and otherwise.
It unfolds at a pace suitable for its subject: with wickedly observed care for every detail, but slowly in the first half, and the kids are such slogs compared with the parents, of whom we can't help but want to see more. Its farce plot is unfussy and simple, resolving uber smooth and quickly, almost without a whimper. Cruel justice is its subject, as well as real love – we feel that cruelty at hand more keenly perhaps, with more zest than the love, throughout. But the love's still there.