Things We Do For Love (Tour – Salford)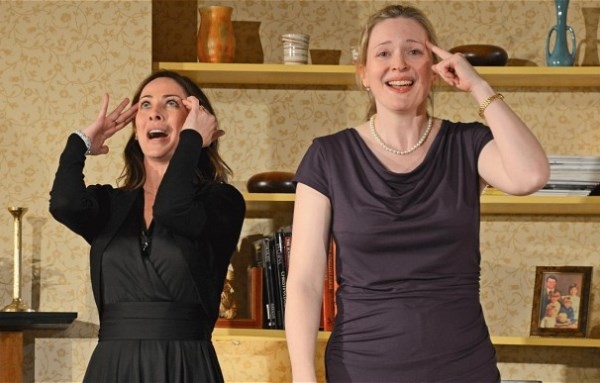 At once hilarious and harrowing, Alan Ayckbourn's touring tragicomedy tells a tale of love, lust, and lunacy – and how all three can ultimately intertwine.
Things We Do For Love looks at the lives of four people, with seemingly recognisable traits. There's Barbara (Claire Price), a career focused and independent woman, capable of doing the DIY and living life without the care of a man. Then there's Nikki (Natalie Imbruglia), Barbara's bubbly and over-enthusiastic best friend, who just loves to be loved, Gilbert (Simon Gregor), the helpful and sometimes annoying neighbour, and Hamish (Edward Bennett), the man every girl wants to have on their arm. Or so it all seems.
When Barbara agrees to rent her upstairs flat out to the 'happy couple' Nikki and Hamish, it soon becomes clear that what is on the surface is not always the reality. From drunken parties, affairs, obsessions, and assault, topics are covered that truly should not be funny – and yet there is hardly a moment goes by where award-winning Ayckbourn does not have the audience in stitches.
Renowned recording artist Imbruglia makes an impressive stage debut, strengthening as the production heats up, while Bennett makes a wonderfully believable lothario – his gushiness fooling even the hardest of hearts. Price's portrayal is at once engaging and experienced, showing off her diversity as an actress and her ability to play both serious and fun.
And for me, one of the funniest moments of the night comes from Gregor, whose drunken performance in Act One is simply stitch-worthy. All four have perfected their comic timing and relationships with one another, helping to transform taboo into tantalising good fun.
A mention must also go to the imaginative set, which, with three levels on show, prove how feet can talk just as much as the face and the voice. It is one you have to see to believe.
There are moments of confusion, however, when the curtain comes down in between certain scenes, for costume changes or minor set alterations. While it is understandable why this has been done, there are a few occasions where audience members set off for their interval drink before swiftly having to get back in their seat. And while I do enjoy the idea of using projections to inform audiences of timings, when overlayed on a fairly detailed backdrop, it is rather difficult to see.
Nonetheless, this is a highly-enjoyable play. Full of façade, it is a performance that not only confirms how one should never judge a book by its cover, but also how despite sorrow and heartache, there is always room for laughter.
Things We Do For Love continues at the Lowry until 7 June.