The Mousetrap (Tour – Salford)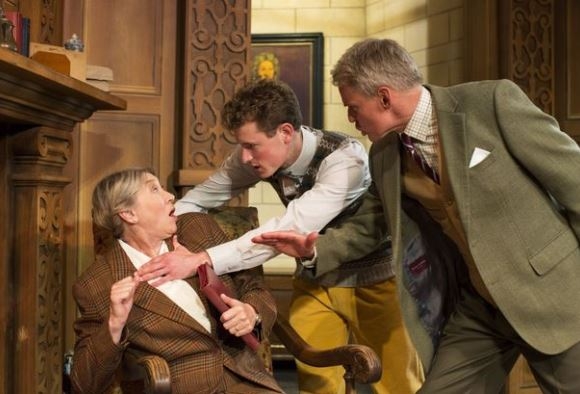 When I was first taken to London from ooop north, The Mousetrap had just opened, I remember. We didn't see it; instead my father favoured The Crazy Gang and a variety show featuring Jimmy Edwards and Eartha Kitt.
And, somehow or other, despite a career of reviewing and seeing thousands of shows, I've managed to avoid The Mousetrap ever since, and it was not until this diamond anniversary tour that I finally found out whodunit.
So, was it worth the wait? Well … at the very least it is a classic Christie murder mystery of a style and format that those of us of a certain age came to expect.
A disparate group of people gather in the seriously oak panelled hall of Monkswell Manor, now a guest house, only to find themselves promptly cut off from the outside world, thanks to a blizzard and a severed telephone line.
Detective Sergeant Trotter arrives, on skis, to inform the guests that, following the death of a woman in London, he believes a murderer is at large somewhere nearby. And when one of the guests is killed, it's pretty obvious the murderer is already there.
The play builds towards its famous multi-twist ending (which the audience at every performance is asked not to divulge to anyone) and, as is usual with Christie, by simply assuming the most unlikely character on stage is the guilty party, you might very well spot the villain before the unmasking.
Meanwhile, as is the way of these things, there's much boring twaddle, red herrings underfoot and padded information about the cardboard characters that is merely there to pass the time until the dénouement.
The convincing-as-they-can-be-in-the-circumstances ensemble cast here is led by Jonathan Woolf as Sgt Trotter, with Hollyoaks' Henry Luxemburg and Joanna Croll as the newlywed owners of the newly-converted hotel.
Chris Gilling (ITV's Law and Order, BBC1's Silk) is the mysterious army retiree Major Metcalf, while Michael Fenner reprises his role as Mr Paravicini from the West End production. Ryan Saunders goes bravely over the top as the effete Christopher Wren.
I still remember the Crazy Gang, and Professor Jimmy Edwards and Eartha Kitt. I'm not sure The Mousetrap would have stayed the course quite so clearly, but millions obviously disagree.
The Mousetrap is at the Lowry until 22 March.
– Alan Hulme