The Events (Liverpool Everyman)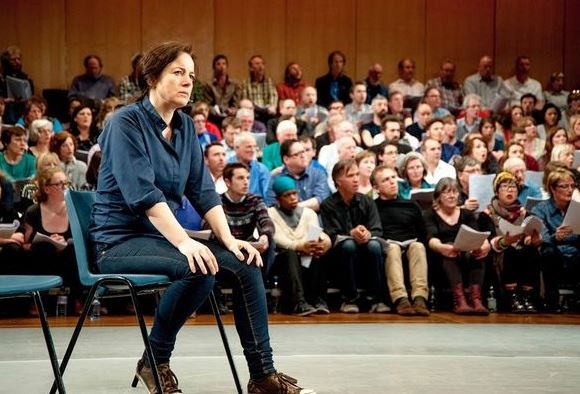 David Greig's The Events looks at one person's terrible memory of one day, the events leading up to a shooting and the consequences of it. Greig looks at how humans survive when they are faced with real danger and the capacity to forgive.
The Everyman stage is stripped practically bare; it does not feel like a theatre or that you will be watching a play as you walk through to find your seats.
With just a couple of benches at the back and a piano with stacks of chairs slightly out of view, there is a feeling of anticipation as more than twenty or so people file onto the stage and huddle round a piano to sing Marvin Gaye's "You're All I Need". This is how the show begins and in amongst the choir emerge the two actors who take us through the events, Claire (Amanda Drew) and The Boy (Clifford Samuel).
The story is built up gradually, the memories that Claire has before the day leading up to the shooting in the church are layered and as they are told from different points of view they are slightly convoluted, which works with her not quite remembering all the details of that day. Drew plays the emotional Claire with compassion and warmth against Samuel's disturbing mind of the Boy. He also plays other parts such as Claire's girlfriend and psychologist.
Greig's use of the choir adds depth and voice, not just musically but emotionally, as they are used as a conscious voice to the characters' inner monologues and help to put some of their memories into perspective.
This is an emotional story, often tense, that just adds to the drama building up to a climatic conclusion. Very well written and superbly acted, The Events is yet another great play in the new season.
The Event continues at the Everyman until 12 April.
– Janie Phillips