The Big Meal (HighTide Festival, Halesworth)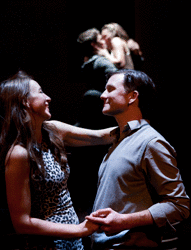 The Big Meal is the most recent play by its American author and Michael Boyd's production has already been seen – and reviewed by Kris Hallett – at the Ustinov Studio, Bath as part of that theatre's American season. Certainly it packs a punch, several of them of different types, as we follow the extended family generated by a chance meeting in a diner between Nicole and Sam.
At first she wants little to do with him, his initial approach being clumsy if not down right crass. But they come together, marry, start and family and it all spirals from there. Whether the spiral winds upwards or downhill is up to the individual audience member's reaction. And, if you think the adults' behaviour leaves much to be improved, wait until you meet the children.
They – the parts are shared between Jeremy Becker, Zoe Dolly Castle, Courtnei Danks and Robbie Whittcock – turn in excellent performances. Their elders, but not betters, are Lindsey Campbell and James Corrigan who play the generations of young lovers, Kirsty Bushell and Jo Stone-Fewings as these seek some sort of maturity and Diana Quick and Keith Bartlett as the oldest members of the family.
Boyd's production has the merit of a set by Tom Piper and the interval-less action is brisk. The fine performances apart, I was left with a feeling that I wanted more, something was missing. Not the meal's served up by the diner, that's certain – you could take the play as a warning against overindulgence in junk food and a warning of the health problems which can follow obesity. But I'm not sure that's what either LeFranc or Boyd intend.
The Big Meal runs at the HighTide Festival in Halesworth until 19 April.