Talking Heads (Bath Theatre Royal)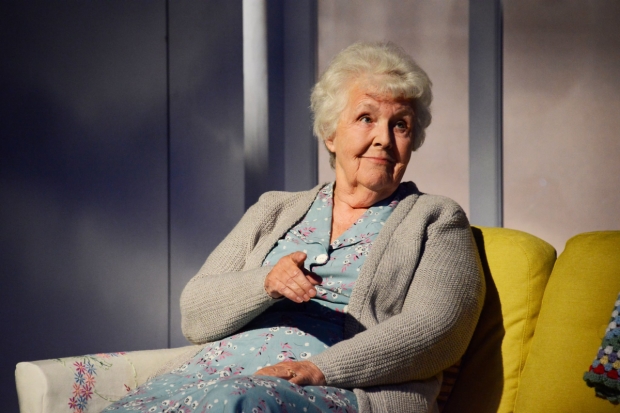 Alan Bennett and Bath Theatre Royal go together like milk and honey. Rarely does a summer season pass without one of his productions playing. The Madness of George III, Enjoy and Kafka's Dick have all had successful revivals in recent years. Of course the apparent cosiness which draws in the well-heeled and tourist crowd is always hiding a darker subversive side underneath which makes his plays a rewarding night in the theatre. Here three of the original Talking Head's monologues, A Lady of Letters, A Chip in the Sugar and A Cream Cracker under the Settee, all created for the BBC TV series in 1988, focus on the aching of loneliness in late middle aged life.
There is no one who captures everyday suburbia with the crackling wit and searing observation of Bennett. From a lady whose compulsive letter writing turns from pestering to poisonous: the middle aged closeted man who finds his close relationship with his Mum is affected by her new relationship with a past lover and Stephanie Cole stepping into the shoes of Thora Hird as the old lady trapped on the floor after a fall: each of these monologues are pen portraits of a generation of people trapped with little but their own company, in the days before Facebook and mobiles at least gave the suggestion of connectedness.
All of them have an emptiness at their centre, a loneliness that is never explicitly stated but is clearly apparent in the sadness behind the eyes and the yearning for more in their language. It mourns a time where people knew their neighbours and would stop for a conversation rather than glare suspiciously.
In the twenty seven years since it originally played, the world has moved at such a lick that there is a feeling of heritage to these works now, the mother seeing pizza and cheeseburgers as exotic food for example and the tone of the evening backs it up. It is quiet and gentle, with some old fashioned curtains allowing scene changes and though the performances are solid it is only in Karl Theobald's performance that there is the sense of an actor fully in control of his material. The art of the stage monologue demands complicity from both actor and audience to make its inherently contrived situation sing and Theobald captures perfectly the buttoned up, frustrated, lonely man still tied to his mother's apron and with little hope of breaking the strings. Originally played by Bennett on screen, the performance here gives the suggestion of the author's personality without ever becoming an impersonation. It's the high point of the evening, a strong centre bookended by two works that never fully match up to their illustrious television predecessors.
Siobhan Redmond's ethereal qualities as an actress mean that she struggles to convey dowdy normalness as the letter writer nuisance while Cole is surprisingly underpowered in the role that won Birch a BAFTA. Director Sarah Esdaile's production guides with a sure hand in Francis O'Connor's astute, painterly sets without ever giving a sense of drive and momentum. It's a diverting rather than essential evening but one that on press night was lapped up by an appreciative house.
Talking Heads plays at the Bath Theatre Royal until 8 August. For more information and to book tickets, click here.