Sex and the Three Day Week (Liverpool, Playhouse)
Describing anything as farcical is rarely complimentary, and reaching back to the 1970s has this Feydeau adaptation up and running in all directions: clothes, hair, décor…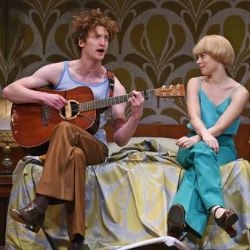 Unfortunately, however, it is all over the place, not just the McManaman's trendy living room and the seedy Paradise Hotel.
The latter is quite ingeniously staged, and a lot of clever touches deservedly received applause.
Not least casting Javier Marzan, who scintillates as the manager, Sebastian, then mimes (mines?) a little gem with Detective Sergeant Rose. Two entertaining interludes make the most of scene changes.
So, neighbours stuck in unhappy marriages: Mr M (a game for anything Edward Harrison) is bullied by high-powered, decanter-quaffing businesswoman Angela (Natalie Casey), a sort of curious hybrid of Mrs T, Mrs Fawlty and Gladys in Hi-de-Hi. She's also the erudite lady of the night, Holly, who could do with a bigger part, as it were.
Meanwhile, Catherine Ballard (inspired by Deidre Barlow?) is likewise oppressed by husband Robert, and David Birrell manoeuvres amusingly from stern professional to amateur ghost hunter.
Lucy Phelps and Robin Morrisey play the young lovers with considerable exuberance, a nice contrast to their illicit couple, Mr and Mrs Smith. Graeme Rooney does well in a variety of roles, while you could call Eileen O'Brien the icing on the Christmas cake as dotty, malapropical Miss Mayhew, the cherry on top being the voice of Ken Dodd as her beloved mynah bird; her other pet is a snake.
As always, it's down to audience reaction – they seemed to relish everything, and although rather hit and miss, the hits make it an entertaining show.
Sex and the Three Day Week is at the Liverpool Playhouse until 10 January.