Sarah Crompton: Why is theatre so silent on the subject of mothers?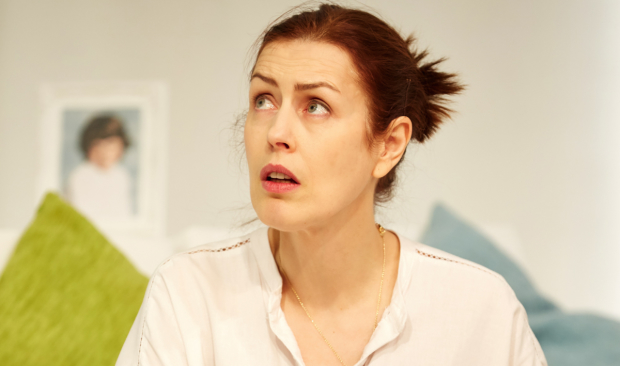 Oh the joys of Motherland. Not the state itself – though that has quite a lot to recommend it – but the new television series which began on BBC Two this week with the snap and crackle of something quite special.
Written by Sharon Horgan and Graham Linehan, it creates a brilliant picture of a harassed working mother Julia (Anna Maxwell-Martin) forced to ingratiate herself with a posse of non-working mums led by the terrifyingly perfect Amanda (Lucy Punch) – and teaming up with the deadpan and dysfunctional Liz (the brilliant Diane Morgan, also known as Philomena Cunk).
It combines a searing view of the perils and guilt of motherhood – "I really admire how you can just switch off your family and focus on your job," drawls Amanda to Julia – with dark, physical comedy. In one scene Liz cuts off a finger while sawing at a block of frozen cheese. "You can freeze anything," she remarks, cheerfully.
Apart from being torn between laughter and appalled recognition all the time I was watching, I was struck by how cleverly the writers are subverting the form of the sitcom to reveal the true state of parenthood in Britain today. It is an extraordinarily smart show, unmissable TV.
Motherland tackles subjects that you rarely see even mentioned on stage
And then another thought struck me. Motherland tackles subjects that you rarely see even mentioned on stage. However good theatre is at functioning as the crucible for debate about the major issues of the day, or airing the intricacies of our relationships, and the agonies of our growing up, motherhood is something I can barely remember seeing discussed.
There's Mother Courage I suppose, dragging that bloody cart round in an endless burden of care, but that's a play more about war than the emotional tug of family. There's the brilliantly depicted dysfunctional relationship between mother and son in Polly Stenham's That Face; Florian Zeller's recent The Mother focuses onmothers and sons; Caryl Churchill's Top Girls discusses a woman's choice between child and career. And er, that's it.
Yet childbirth and motherhood are defining events in most women's lives- whether they chose to have children or not, whether they can have children or not. There should be hundreds of plays on the theme, not a handful. (I do accept I may have missed some.)
This vacuum relates of course both to the shortage of women playwrights, and to the sense that subjects that matter to women are not fitting for discussion in an open forum. It's all very well to talk about your attitude to children around the kitchen table, but it must be hidden in the boardroom (one of the very good running jokes in Motherland involves the surprise of Julia's colleagues that she actually even has children) and thus in our public spaces.
This vacuum relates to the sense that subjects that matter to women are not fitting for discussion in an open forum
Which makes it all the more exciting that the Royal Exchange Theatre, Manchester is dragging the issue purposefully centre stage in a specially-commissioned series of plays on the subject of birth, "a cultural festival of theatre and debate", that runs from October 19-21. The subject of the festival is intensely serious. In collaboration with the Oglesby Charitable Trust, the theatre is using its stages to debate one of the key issues of our time: the inequality of healthcare which leaves some women and babies in a life and death lottery conditioned by the place in which they are born.
Seven playwrights from Brazil, China, India, Kenya, Syria, the UK and the USA examine difficult and challenging propositions, taking as a starting point for their work subjects such as the high caesarean rate in Brazil, the shortage of doctors in Kenya and the number of women in Britain giving birth over 40.
Sceptics might say that it is hard to write great drama when you are dealing with a prescribed theme. What I say is the fact that these subjects are being raised at all on a British stage marks a step forward in expanding the scope of theatre. So hats off to the Royal Exchange – and do book a ticket both for their bold experiment, while also remembering to be on your sofa next Tuesday at 10pm for the next searing instalment of Motherland.
Birth runs at the Manchester Royal Exchange from 19 to 22 October.