To pass the time during a dull account of Handel's Messiah I might conceivably amuse myself by picturing the soloist miming dubious sight gags to the words of "He was despised". Naughty, but entirely my business.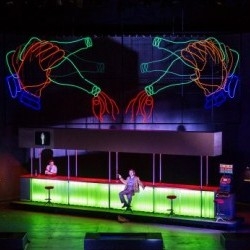 Richard Jones does something of the kind with his production of Rodelinda, one of Handel's most dramatically truthful operas. The difference is that he foists his whimsy on the rest of us – and does so meretriciously over the course of an otherwise glorious musical performance.
English National Opera has assembled unbeatable casts for its current crop of operas and Rodelinda is no exception. It's a lengthy work, but Christian Curnyn marshals his forces with riveting tautness and the ENO Orchestra revels in the historically informed playing he asks of them. The support he gives to his superb company of singers is as sublime as his tempo choices.
Rodelinda tells the tale of an overthrown king and his loyal wife's courage in the face of the usurper. Rebecca Evans in the title role took a couple of arias to warm up, but that still left the world-class Welsh soprano with a raft of great music which she sang with her customary brilliance. This is an opera where the diva has all the best tunes, and Evans seized them gratefully.
In Jeremy Herbert's fussily inconsistent designs we are in a post-war fascist state where, as the deposed ruler and his adviser, counter-tenors Iestyn Davies and Christopher Ainslie complement each other's vocal timbre while displaying top-notch acting chops. Davies also wins the battle of the wigs: his heroically bedraggled mop adds a touch of the Russell Crowes to his youthful countenance, whereas tenor John Mark Ainsley's Grimoaldo, the bad guy, is topped with a black greaseball that embodies his contemptibility. Richard Burkhard as Garibaldo (the even badder guy) is thrillingly malevolent and Susan Bickley as the emotionally crushed Eduige noble in her misery.
All concerned, not least the composer, are undermined by the production. Handel thought he was writing a serious work, so why does Jones subvert it? The answer must be that he doesn't trust the material so he sends it up. Time and again intense scenes are undercut by pantomimic visual business.
A battle over a wall switch ruins one aria; the miming of ever more imaginative methods of gruesome dismemberment does for another; and when Flavio (Matt Casey, compelling in a silent role) collapses onto his mother's knee, Burkhard gurns a Pietà reference to the audience in case we miss it. There's also a comparison of penis-envy weaponry that's so heavy-handed my toes curled in embarrassment.
Little of the comedy is either appropriate or funny. Where is the Richard Jones who enchanted me so with his Falstaff and Tales of Hoffmann? He shows his face fleetingly at the end of Act Two with an exquisite realisation of the duet "Io t'abbraccio" (rendered in Amanda Holden's translation as "Ah, beloved"), but alas it's the only moment when he seems remotely interested in exploring character. Meanwhile, Ainsley's rapturously sung Grimoaldo cried out for a little psychological probing, since he's a conflicted creature whose vulnerable soul ought to fascinate the audience. Instead we get a tattooed clown.