Rock of Ages (Tour – Manchester)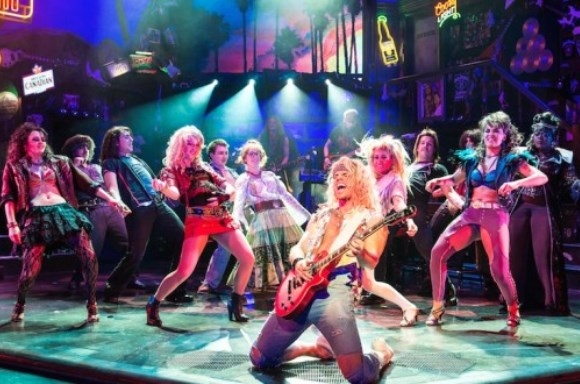 Following two years in the West End and still going strong on Broadway, Rock of Ages arrives in the regions on the back of a big following with fans but not so many critical plaudits.
Tom Cruise, Alec Baldwin, Catherine Zeta Jones and Russell Brand starred in the movie version, so is it time to 'put another dime in the jukebox, baby' and give this show another play? Well, the hard working cast certainly do a fine job convincing you and they all know how to rock out.
Chris O'Arienzo's barely there book could in fact be a flyer, as we follow wannabe stars Drew (Sullivan) and Sherrie (Cordelia Farnworth) in their quest for rock god/goddess status in the 1980s. They dream of becoming as big as Stacee Jaxx (Ben Richards). But once they meet their hero, they discover that all that glitters is not gold.
Add some German stereotypes determined to knock down the bar on the Sunset Strip, a protester who argues that "We Built this City on Rock and Roll" and you have a crazy romp, packed full of hits.
The cast give it some and this does help increase your enjoyment levels. Noel Sullivan is a great vocalist and conveys genuine vulnerability as Drew. Cordelia Farnworth is a real find, as she not only has the vocal chops but she's a fine actress, also. Ben Richards never puts a foot wrong and plays it purely for laughs and is great but you do wish Stacee had more stage time and Rachel McFarlane's Justice is such a powerful singer that you long to see and hear more from her, too.
Daniel Fletcher's Denis Dupree comes into his own in act two when he's given more to do as the club owner. On the night I attended Nathan Amzi played narrator Lonny due to the fact that Stephen Rahman-Hughes was injured. He is a great comedian and despite not making through to the final of The Voice UK proves that he has more talent than BGT could ever muster up. Simon Lipkin steps in tonight and tomorrow, so fans of this show are in for a treat.
At times the show feels like a stretched elastic band, as we lurch from hit to hit at full pelt. The problem with this approach is that you just start getting into a song such as "Every Rose Has Its Thorn" and on we go to the next one. But each number is performed with integrity and passion by the talented cast. The ensemble numbers are the best, as Kelly Devine's choreography gives them the energy that the songs deserve.
References to boxed wine, smoke machines, boy bands taking over and rock gods bedding anything and everything are funny up to a point but the narrative needs some zip, as the concept is so thin – there are moments when you start to long for a song. And that's the problem really, as the show is not consistent enough. It's like drinking Bud Light when there's something stronger in the pump next to it.
Flaws aside, Sullivan, Richards, Farnworth and Co ensure that if you're a fan you'll be in rock "Heaven" If you're not though, it might be more of a case of "Here I Go Again.''
Rock of Ages is at the Palace Theatre, Manchester until 10 May and is touring the UK until November.