Review: Tosca (Wales Millennium Centre and tour)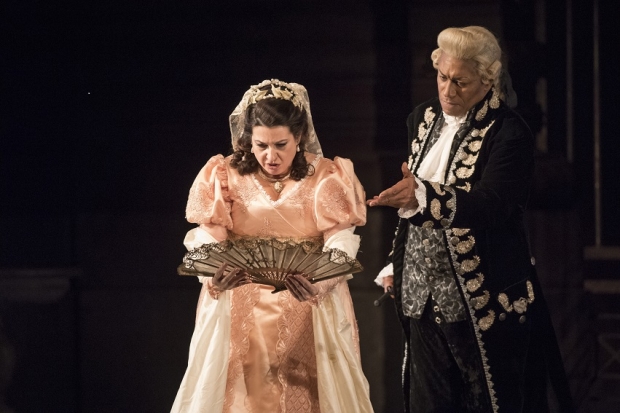 My dear, realism is SO last century.
Maybe so, but who cares? Michael Blakemore's 1992 Tosca is safe, traditional and fun: a dyed-in-the-wool audience pleaser for Welsh National Opera's Spring tour. Puccini's gut-ripper has been revived with verismo vigour by Benjamin Davis, and it's sharp as a knife.
There are sound reasons why the production continues to work. It's relatively small-scale and the intimacy draws us in, while character definition is strong with even the most innocuous exchanges dredged for subtext so that the politics of Angelotti (Daniel Grice) and the loose tongue of the Sacristan (Donald Maxwell) crank up tension before the main action even gets going.
Blakemore humanises everyone. He makes clear that the comic bickering between Tosca and Cavaradossi in Act One is born of love, not mistrust, an emphasis that intensifies the darkness to come; and he shrewdly injects doubt into the minds of both lovers – playing against the text – as they prepare to enact death on the battlements. Scarpia's poisonous nature, meanwhile, manifests itself in a hundred small ways, from peremptory hand-claps at his underlings to the sacrilegious defiance with which he crosses himself at the end of his Iago aria, 'Va, Tosca!'.
There's fuel for quibbles, though, such as Scarpia's botched first entrance. When Carlo Rizzi (who also conducted the premiere of this production all those years ago) unleashes the police chief's baleful motif, a small door opens to admit a distant figure. It's sadly underwhelming. And later, high on the battlements of the Castel Saint'Angelo, a soldier peers horizontally into thin air rather than down at the ground below as he watches the young Shepherd fly (presumably) past.
Rizzi asks his singers to favour meaning ahead of beauty, and not all of them are up to the task. The Mexican tenor Hector Sandoval possesses some handsome high notes but he was ill-advised to project the heroism of Mario Cavaradossi by voicing his middle register in such constricted, curious-sounding ways. More secure across the board was Mark S Doss as Scarpia. Although the American's attractive baritone is a little light for the role, more molasses than menace, he exploited his resources well and achieved some satisfying boo-hiss moments. I especially enjoyed the venom with which he spat the name ''Mario'.
The dramatic soprano Claire Rutter, fully deserving of her status as Britain's prima Tosca assoluta, was on imperious form, her voice steady and powerful not just in the big shrieks but across the range. Rutter's assumption of the role this time was even more accomplished than her English-language account at ENO. She sang her star aria 'Vissi d'arte' very directly, immersing herself in its message ('I lived for art and never hurt a soul') and eschewing any temptation to prettify it.
Under the sure baton of its former music director, the WNO Orchestra supported all the singers with a lip-smacking account of the score. It's unfortunate that Ashley Martin-Davis's trio of solid sets took two longish intervals to shift, because the interruptions trashed the musical momentum Rizzi took such pains to create. Nevertheless, a good show.
Tosca plays in repertory at the Wales Millennium Centre until 23 February, then tours to Birmingham, Southampton, Plymouth, Milton Keynes, Bristol and Llandudno until 20 April.