Review: The Prime of Miss Jean Brodie (Donmar Warehouse)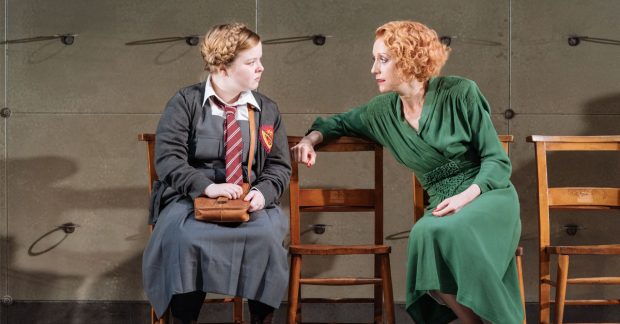 Muriel Spark's Miss Jean Brodie is one in a long tradition of inspirational but wayward fictional teachers. Think Dr Bryant from Educating Rita, John Keating from Dead Poets Society, Hector from The History Boys. Miss Brodie is formidable, brilliant, passionate and a bit of a mess. And here, in David Harrower's new adaptation of the original novel, she is a mint of a part.
In Polly Findlay's production for the Donmar Warehouse, she is played by the equally formidable Lia Williams, who, despite the looming, iconic shadow of Maggie Smith in the 1969 film, makes the role entirely her own. It's a superb part and Williams emerges from it a complete star (although anyone who has been following her recently will already know she is exactly that).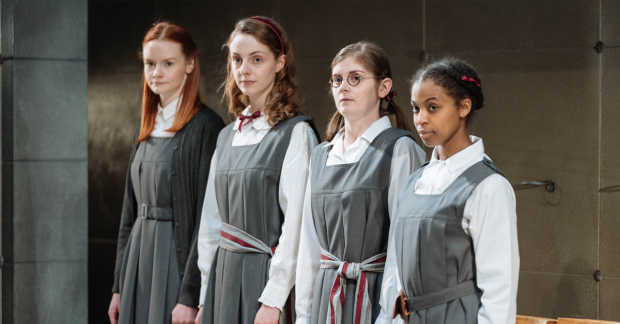 Miss Brodie is in charge of the class in the final year at an upright girl's public school in Edinburgh in the '30s. Where the stuffy headmistress Miss Mackay champions dull, pedestrian good sense and safety, Miss Brodie is the school's rebel. As soon as Miss Mackay's back has turned Miss Brodie is encouraging her young protégées to close their arithmetic books and talk about Italian art. And the 'crème de la crème' of the pupils (all still in junior school at 10 years-old) she invites back to her flat for sherry and more talk. She's the sort of teacher who changes your life and that, in a way, is Miss Brodie's raison d'etre. Although of course, these remarkable teacher-pupil relationships are on a singular path to disaster. The pressure Miss Brodie puts on the girls to become something brilliant, and the dreams she fills their heads with, don't sit well in a world where women are forced to stop working once they are married. The girls get older, most get real, and Miss Brodie makes a mistake (or two).
It's a play about the place of joy in education and about the way women have been suppressed for so long. Though Miss Brodie is a force unto her own, she is also constrained by society – desperate to keep working for 'her girls', her romantic dalliances are always shunned. She couldn't marry, imagine Miss Brodie as a housewife.
Williams is poised and perfect as Miss Brodie, simpering and elegant in a series of fabulous, boldly coloured 1930s dresses that stand out on Lizzie Clachan's otherwise grey designs. She has eyes that smoulder and eyebrows arched at everyone around her. Williams' Miss Brodie is delighted by everything, her whole body dancing and laughing by the simplest thing – such as a perfectly structured sentence.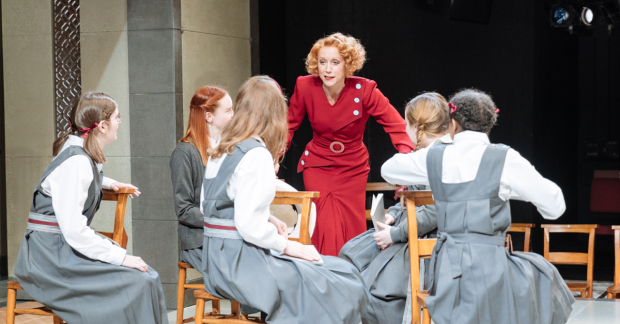 And her downfall is acute, as Rona Morison's Sandy proves top of the class then a latter-day Judas. Morison is also brilliant, offering a sense of Sandy's youthful intelligence and tenacity but also just how impressionable she is. That goes for all the young students. Nicola Coughlan's Joyce Emily – who eventually follows Miss Brodie's instruction a step too far – is sad and real as the girl who wants to be friends but is left out of the clique.
Spark's story focuses on humanity – the ability we have to inspire and lead, and the importance of experiencing the world directly rather than just through books. But as Miss Brodie lives vicariously through her students, it is also a lesson in what being a kid means and just how stifling a world without potential can be.
Findlay's production is beautifully pitched, with some excellent supporting turns from the likes of a gentle but frustrated Angus Wright. It's also very funny; an evening offering tragedy, comedy and food for thought in equal measure. Four gold stars from me.