Review: The Merchant of Venice (Bristol Hippodrome and tour)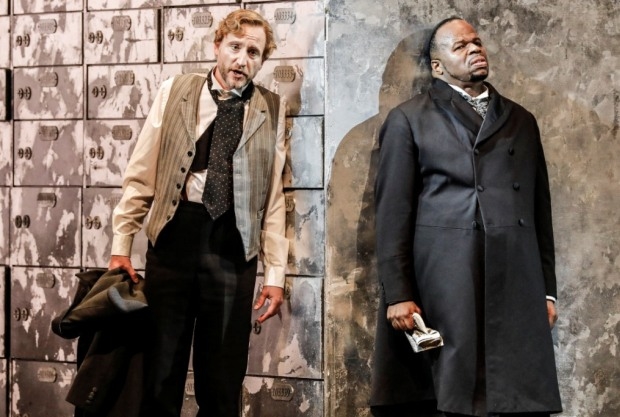 'Alas, poor André Tchaikowsky…' So might David Tennant have said when his Hamlet held Yorick's skull aloft. The Polish pianist bequeathed his bonce to the RSC after his death, a gesture that has secured a measure of posthumous fame for the man born Robert Andrzej Krauthammer. A child survivor of the Warsaw Ghetto who changed his name in order to hide his Jewish origins, he was a passionate admirer of Shakespeare.
But if he's only remembered for a bone it will be an injustice. His keyboard career was steady, if not stellar, with regular UK appearances in concert and on BBC Radio 3. In addition, albeit at a lower profile, he composed. That, he would say, was his true calling, but the world didn't agree. Nevertheless, in 1978 Tchaikowsky wrote—on spec—an operatic setting of The Merchant of Venice that has languished unperformed since his death.
Shakespeare's play seems to have obsessed this depressive, gay, Jewish outsider who never felt entirely validated by his peers. And the opera, first performed at the Bregenz Festival three years ago and now receiving its UK premiere in Keith Warner's Welsh National Opera production, overflows with conviction and ferocity. But though composing it will have been cathartic for Tchaikowsky, as a transposition from one art form to another it never quite justifies its existence.
John O'Brien's libretto must share the blame. He has been way too cautious in filleting the original play: his expository first act lacks rigour and the two Belmont sequences, Shakespeare's oases of calm and good order, ramble on and on.
Lyricism is only an occasional visitor
Thankfully, Warner's production does a commendable job of reclaiming the drama. Amid fluid, semi-abstract safety-deposit-box designs by Ashley Martin-Davis he injects creative ideas wherever the over-obvious Tchaikowsky fails to provide them. They don't all work, and some are misjudged (as when Portia freely hands Antonio over to Shylock's knife before she's thought of a way to save him), but the best of his production is thoughtful and reflects the composer's sympathetic view of Shylock, not least in the viciousness of his courtroom abasement.
The American baritone Lester Lynch is vocally magnetic in this difficult role, and his engagement in the taunting scene (heralded by a thrilling passage of orchestration) is the work of a skilled actor.
He is efficiently partnered by Mark Le Brocq as Bassanio, David Stout as Gratiano and Bruce Sledge as Lorenzo; but alas for the hapless Antonio, Tchaikowsky seems to have underestimated the craft of writing for the countertenor voice and Martin Wölfel was swamped by Lionel Friend's WNO Orchestra (which, at the Hippodrome, plays at eye level rather than from a pit).
Sarah Castle is a decisive and vocally characterful Portia (although not even she can rescue the exasperating epilogue from tedium), as are Verena Gunz and Lauren Michelle as Nerissa and Jessica.
The Merchant of Venice is an opera whose composer seems more in love with the subject matter than the voices who deliver it. Lyricism is only an occasional visitor (although his setting of Portia's "The quality of mercy" speech is moving) and melody, on the few occasions when it surfaces, is uninspired. The orchestration, though, is confident, colourful and often dramatic. If Tchaikowsky had survived long enough to refine his trade, who knows what he might have achieved.
The Merchant of Venice tours to Oxford, Southampton, Birmingham and Llandudno until 22 November. It will play at the Royal Opera House, Covent Garden, on 19 and 20 July 2017.