Review: The Girl on the Train (West Yorkshire Playhouse)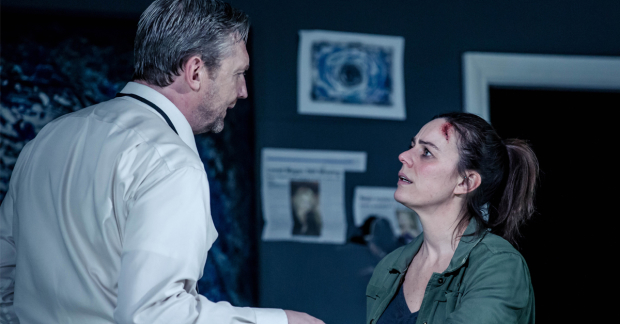 For the third time this year, the West Yorkshire Playhouse has donned its cap to powerhouse, seemingly adaptation-friendly modern novels. Birdsong and Still Alice both came and went this year and now comes an adaptation of Paula Hawkins' unit-shifting novel which spawned a silver screen outing in its wake, The Girl on the Train.
With proven track records these adaptations seem to be solid bets. This has been the go-to novel of recent times for beach dwellers across the world, but with anticipation and familiarity can come pre-conceived expectations.
This adaptation concentrates on Rachel Watson's unreliable memories – and the exploration of these memories are a key aspect of the play – as she moves in on DI Gaskell's investigation into the disappearance of Megan Hipwell. She is well placed to throw light on the issue from what she has seen unravel on the train she boards for her morning commute. She appears to have formed a fascination as voyeur looking onto the terraces and through the windows of two families (the Hipwells and the Watsons) involved in the case of the missing girl. Tom Watson is her ex-husband, and Rachel used to live in one of the houses, which he now shares with Anna. It's a propulsive story, with momentum at its essence, so an interesting challenge for creatives.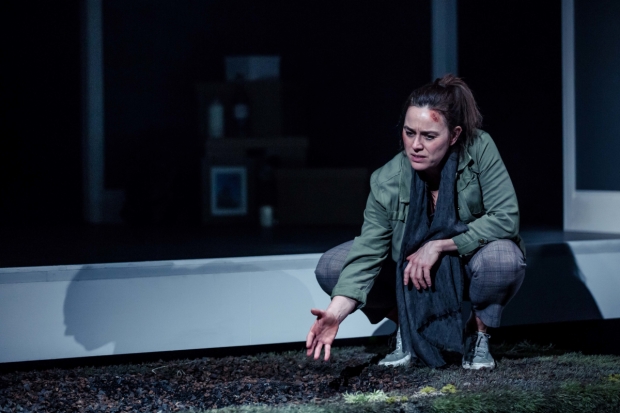 The design takes the shape of a clean, minimalist box-like room in a house, the type of crisp scene which is de rigueur at present. With its themes of a woman struggling to bear and raise children, it is in these aspects evocative of Young Vic's recent Yerma.
The single sparse household design is made to work for all scenes, most of which take place in the various houses of the characters. There's emphasis on imagery, certainly in the form of a piece of artwork on the wall with a gaping hole of nothing at its centre, which turns in to a lighting flourish all the more surprising and literally blinding at the end of the play.
The train is evinced with interjections of light and sound to change scenes.
If you're into the star system, this is a whisker away from five-star material. The cast proffers real variation and contrast of character. Like the script, they take their time settling, but they and it just grow and grow. The writing provides a profound exploration of the difficulties of strongly drawn characters, and it all amounts to far more than a simple mystery thriller. There are two or three knockout scenes, which you won't forget easily: a meeting ladled with irony, tension and humour in the house of Megan's husband Scott, between him, Rachel and the new Watsons; another a jolting reveal from Megan (played by Florence Hall) set against Isobel Waller-Bridge's tense soundscaping, which holds the auditorium rapt.
A fight scene at the climax is that very difficult thing to conceive in a theatre, believable and disturbing at once. Completely memorable.
Jill Halfpenny carries the show, emotive and emotional, convincing yet blurred all at once, and her relationship with Colin Tierney's Gaskell is scrutinised with nips of humour. I haven't seen a more engaging, absorbing hour of theatre this year than I did here in the second act and I don't think I will. This is a must. Don't miss it.