Review: Sunshine on Leith (West Yorkshire Playhouse)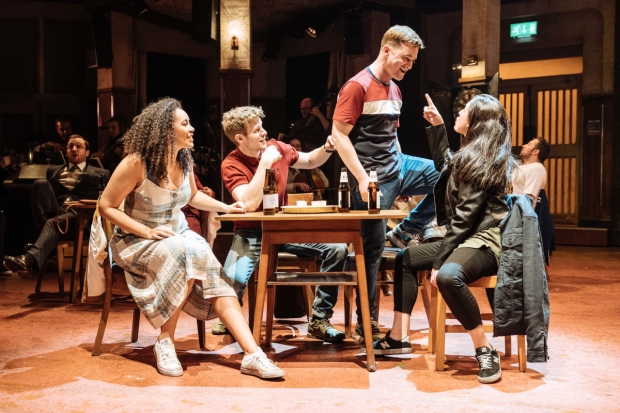 Eleven years ago James Brining, then artistic director at Dundee Rep, and writer Stephen Greenhorn collaborated on Sunshine on Leith, a musical structured around the songs of The Proclaimers. An instant success then, it has enjoyed several revivals in Scotland as well as being turned into a film. Now the nation gets the chance to see the stage version in Brining's joyful, inventive and very human production starting its UK tour at the West Yorkshire Playhouse.
The storyline has its moments of soap opera cliché, with two young men, Davy and Ally, returning to Leith after serving in Afghanistan, Ally set on resuming his relationship with Davy's sister Liz, Davy unattached until Liz and Ally fix up a foursome with Liz's nursing colleague Yvonne. Young love has its problems, as does the 30-years-old marriage of Rab and Jean, Liz and Davy's parents, threatened by a dark secret from the past. To his credit Greenhorn doesn't go for glib solutions, though the price to pay for a welcome seriousness is lengthy debates (all well acted) on home, family and love during a spell in act two when the music disappears.
Greenhorn's dialogue is sharp, convincing and often funny, his approach to place and characters is refreshingly positive and he integrates the songs most skilfully: though one suspects, for instance, that one character's career move has something to do with the need to include "Letter from America", there is very little sense of shoehorning the songs in. However, it's not the plot line or the dialogue that makes Sunshine on Leith a guaranteed success.
The songs themselves are the heart of the evening, with an emotional truth that relates effectively to different situations (the cleaners at the Scottish Parliament with "Should Have Been Loved", for instance) and sturdily structured melodies that come up smiling in unexpected musical settings.
A major change from the earlier productions is the replacement of a pit band with a seven-piece onstage band, with members of the acting ensemble adding their own instrumental contribution. This is a production that thrives on flexibility: action and accompaniment flow into each other, the main reception desk at the hospital is a piano, musicians appear in supermarket trolleys and a cellist lurks at the back of the bar.
An exuberant ensemble of 18 displays unfailing energy and discipline, responding to Emily-Jane Boyle's quirkily in-your-face choreography and David Shrubsole's stylistically varied (even within one song) musical arrangements. Colin Richmond's designs, beginning with a bandstand and a well-stocked bar, display the same flexibility combined with detail as the production as a whole.
Steven Miller's Davy, droll, confused, decent, with a fine tenor voice, is outstanding, as are Hilary Maclean and Phil McKee as Jean and Rab, jolted out of the groove of wryly loving tolerance by a message from the past. Paul-James Corrigan (Ally), Jocasta Almgill (Yvonne) and Neshla Caplan (Liz) make up a strong central set of performances, all as adept at selling a song as creating a convincing and sympathetic character.