Sunshine on Leith UK tour first look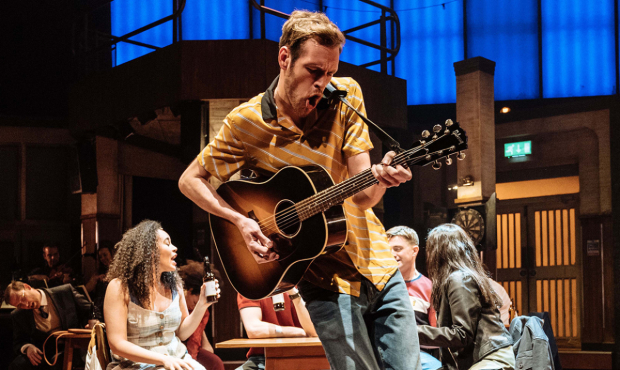 Photos have been released showing the cast of the new UK tour of Sunshine on Leith onstage ahead of the show's opening at West Yorkshire Playhouse this week.
The 2007 musical, written by Stephen Greenhorn with music from The Proclaimers, is newly revived in this production for a UK tour which visits Leeds, Glasgow, Coventry and Dundee. In 2013 it was adapted into a feature film with a cast including Peter Mullan, George MacKay and Jane Horrocks.
Featuring Steven Miller (The James Plays) and Paul-James Corrigan (River City) as servicemen and friends Davy and Ally alongside Jocasta Almgill (In The Heights) as Yvonne, the piece is directed by James Brining with design by Colin Richmond, lighting design by Tim Mitchell, sound design by Richard Brooker, musical direction by Toby Higgins, choreography by EJ Boyle, fight direction by Rachel Bown-Williams and musical supervision by David Shrubsole.
Last week, cast member Euan Bennet provided a look inside the production as it prepares to open in Leeds.