Review: Semele (Garsington Opera, Wormsley Estate)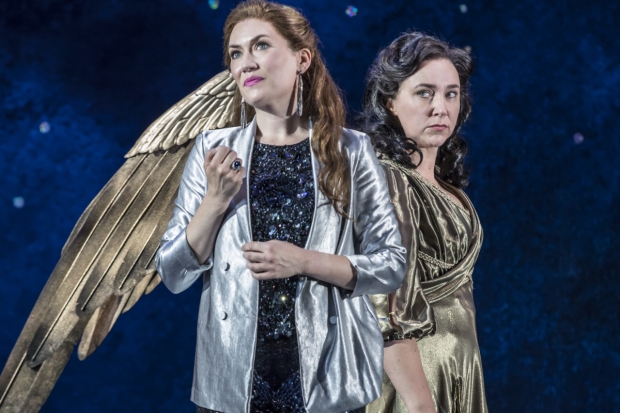 The strange case of Annilese Miskimmon continues. The Irish director's career layers paradox upon oddity: first a hitherto average portfolio of achievements on the British Isles landed her the plum job of general manager and artistic director of the Danish National Opera in 2012; then, as if in explanation, her five-star production of Bellini's I puritani for Welsh National Opera was deservedly voted best production of 2015 in the WhatsOnStage opera poll.
Last autumn's Madama Butterfly for the Glyndebourne Tour saw Miskimmon backslide into mediocrity ahead of another elevation, this time to the post of artistic director of Norwegian National Opera. Understandably, then, expectations of Handel's Semele for Garsington Opera were anyone's guess.
Three cheers, for it's a treasure.
The story is simple but cunning. Mortal Semele falls in love with the god Jupiter and thereby incurs the wrath of Juno, a.k.a. Mrs J. The goddess hatches a plot to destroy Semele: she instils in the girl a lust to experience her husband in the flesh, as it were, rather than in safe mode. Alas, unadorned it turns out he's one hot god, and she's frazzled to a crisp.
Semele is arguably the most immediately appealing of Handel's stage works (opera or oratorio, take your pick), and it's heavy with potential for imaginative stagecraft; however, it needs a sensitive approach if William Congreve's slinky scenario is to cut it in the 21st century. The material is both hilarious and highly sexed, but overegg the comedy and it's dead on arrival. Miskimmon's take on the piece, stunningly designed by Nicky Shaw in rich tones of blue and white, fleshes out all the characters, even the gods, and for the most part she maintains a light comic touch.
The glaring exceptions are a series of motherhood gags concerning Juno, 'goddess of marriage and childbirth', and her ever-growing family. Low comedy that involves waters breaking onstage and a hectic grab for gas & air cheapens the tone and ill serves the sublime Christine Rice who nevertheless sang the part gorgeously.
Everything else works a treat, and the cast is knockout. American soprano Heidi Stober brought cascading technical brilliance to the title role and made light of the damaged knee she'd suffered two nights earlier (some hasty reblocking has eased her path through the production). She was brave to throw herself back into it so willingly. "How endearing is a lover's pain and care", sang the chorus as she winced.
Tenor Robert Murray was an alluringly inscrutable Jupiter and he embellished "Where'er you walk", the show's biggest hit, with superb taste. Not sure about his Olympian cigarettes though. David Soar doubled well as Semele's father and as the god of sleep, Somnus (clearly an inspiration for the Yawning Man in Tom Thumb), while mezzo Jurgita Adamonyté was most affecting as Semele's sister, Ino. One of today's top countertenors, Christopher Ainslie, was wasted in the secondary role of Athamas.
Jonathan Cohen drew spirited playing from the Garsington Opera Orchestra, and there was some joyous work by the Chorus, whether as mortal wedding guests or as the immortal flight attendants of Air Apollo. WIth a riot of inventive special effects it was a night of sweet surprises.
At the interval I overheard a curmudgeon grumbling to his friend that he was hating it. "The critics will tear it to pieces", he predicted.
Here bud, this one's for you.
Semele runs in repertory at Garsington Opera until 4 July. There are free sceenings of the opera around the country as follows: 1 July Skegness & Oxford, 22 July Ramsgate, 29 July Bridgwater, 15 October Grimsby.