Review: Ruthless (Arts Theatre)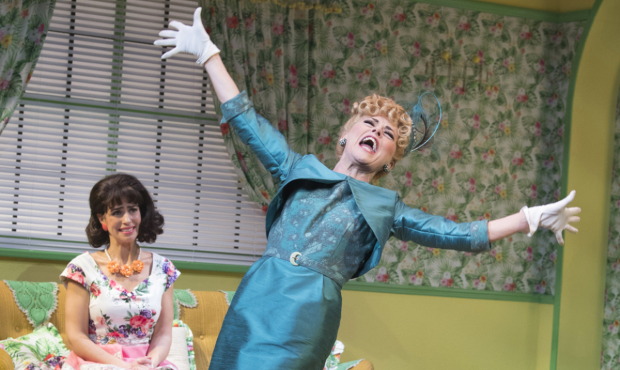 The phrases scene-chewing and high-camp were never more aptly used to describe a musical than this one. Ruthless!, making its West End premiere at the Arts Theatre, is a pantomimic, over-the-top, garishly coloured take-down of showbiz, the pushy mother and the drive to get your name in lights at all costs. It's both gruesome and delightful all at the same time.
However the main downside to the evening comes with the musical's too-cartoonish book and story, which is, frankly, a bit of a mess. It follows a 'talentless', dowdy and dense housewife Judy Denmark whose daughter Tina is all the terrifying, tenacious stage-bound kids you've ever seen, rolled into one. She's desperate to get the lead in the school play and manages, by fiendishly nasty ways, to step up to the role. All the while she's being pushed by her mysterious new agent Sylvia St Croix and her critic grandmother. It's when Judy and Tina discover that 'talent' or showbiz may actually be their birth right – it's pulsing through their veins – that a beast is awakened. Judy's razzle dazzle has its day.
Ruthless! is a satire of all the domineering, unhappy women showbiz tales out there – from Gypsy to All About Eve – with a little bit of the demonic child trope thrown in. The whole musical is a series of slightly clunkly sewn together set pieces, with songs that go on a bit. While the first act takes a little too much time to get to where it's going, it nevertheless is more plausibly constructed than the second act, which just gets ridiculous. Still, the whole point of the show is to make you laugh. And in this regard the musical does manage to succeed, but it's not really down to the script, it's down to six superb performances.
Each of the cast members are an absolute scream, pulling off all the physical comedy as easily as the sung-through slapstick, and they are the ones which make up for the show's occasionally over-baked jokes. As Judy, Kim Maresca – making her West End debut – is a marvel, starting out dead behind the eyes as a housewife and ending a screeching, preening showbiz diva. Dancing on Ice judge Jason Gardiner has a set of bright white teeth that he uses a lot as Sylvia St Croix and his simpering, pouting lips, which tremble beautifully when he's in the spotlight, are hilarious. Harriet Thorpe happily brings things back to earth a little with her portrayal of bourbon chugging schoolmistress Myra Thorne (a character who seems almost entirely superfluous). She delivers her lines wonderfully deadpan, so they land with real comic force. And Lara Denning, in two roles, is a total, hysterical scream, coming into her own in the second act as a crazed, coke-snorting Broadway-lusting maniac.
But it's Tracie Bennett – who barely sings more than one number – that steals the show, with the song "I Hate Musicals". Her physical comedy as the drunk grandmother, almost possessed by the ghost of all the rubbish chorus lines, is laugh-out-loud funny. She has an immense song power which she stuffs into Lita's too-few numbers. The night we saw it Anya Evans played Tina, and she was all the demonic Shirley Temples and Judy Garlands rolled into one. Her opening number, "Born to Entertain", which offers a remarkable tap-dancing, hula hooping extravaganza, was flawless. Watching her drop the F-bomb was eye-watering.
Really, Ruthless! is a great showcase for five extraordinary performers and director Richard Fitch couldn't have found a better cast. The show may be ridiculous, and more than a little shonky, but the performances are sublime and make the evening a blast of comic Broadway excess.
Ruthless! runs at the Arts Theatre until 23 June.