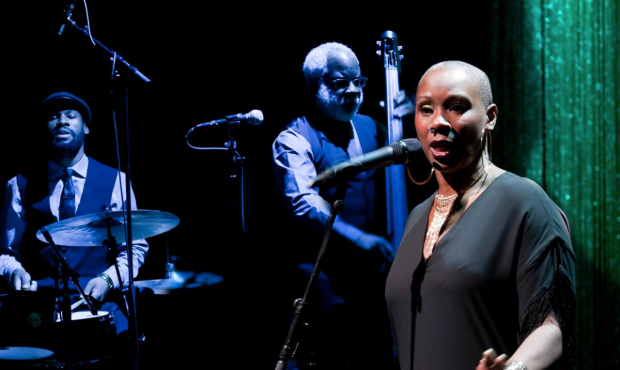 If an audience arrives at Nina looking for nostalgia, Josette Bushell-Mingo gives it to them with both barrels. This isn't simply a tribute gig to the great Nina Simone, the black singer-songwriter whose music soundtracked the civil rights movement. It asks whether such a thing is even possible today.
Mixing musical history and personal memory, Bushell-Mingo runs Simone's songs through a process of restoration – like dabbing an old oil painting with white spirit. Harking back to her legendary concert at the Harlem Cultural Festival in 1969, she sews songs like "Sinnerman" and "Mississippi Goddam" back into their original context, reinstating the meaning behind their lyrics and, just as important, the anger in their tone. Goddam, she reminds us, was the f*** of its day. She wrote the song to mark the murder of Medgar Evers by a white supremacist. "Feeling Good" takes on a new irony. "Ain't Got No, I Got Life" stands strong and resilient. "Strange Fruit" is a pointed omission.
Devised with director Dritëro Kasapi, Nina's main thrust is that Simone's fight isn't over. We hold her up as a revolutionary, she explains, but some revolutions turn full-circle, back to where they began. Others spin like tyres stuck in mud, going nowhere fast. So it is now, Bushell-Mingo insists. She stamps out the 16 bullets that killed Laquan McDonald three years ago. She shouts out the names of Trayvon Martin and Sandra Bland. "How did we come to the point where we had to say black lives matter?" she demands. Her fury is palpable. Ferguson Goddam.
Nina goes further than that though. It asks what it means to sing these songs in this context. Simone's music has been depoliticised to a certain extent. Familiarity has watered down its ferocity. Appreciation has led to appropriation, whereby white listeners stream black protest songs on Spotify. Simone's story, along with those of other civil rights campaigners, has been sanctioned, and arguably sanitised, for mainstream consumption.
Beneath Nina, then, is the question of what it means for a black performer to play to a predominantly white audience. More than that: what it means to sing protest songs at the very people they're protesting against? Simone, we're told, refused to sing for a white congregration unless her parents were allowed to sit in the front row – an astonishing gesture of defiance for an 11-year-old given her first public performance. Bushell-Mingo too wrestles with the act of performance. At one point, such is her anger, she mulls the notion of shooting her white audience dead; her white husband included, were he in the room. She points at people of colour, and spares them. It's astonishing.
Nina's politics are very delicately wrought. Bushell-Mingo starts in Simone's shadow and ends stood in her shoes. What begins as an impersonation, with the actress styled as the singer in green eye-shadow and an afro perm, becomes a performance in its own right: Bushell-Mingo sings Simone. She does so as herself, not as a mimic, taking ownership not just of the songs, but of the stage as well. Throwing off the costume feels like a rejection of a culture that packages civil rights stories up for mass consumption; the breaks black actors get, the stories they get to tell, the songs they get to sing. Nina's a protest as much as a performance.
Nina runs at the Young Vic until 29 July, then at the Traverse, Edinburgh, 5 – 13 August.