Review: Kiss Me, Kate (Leeds Grand and tour)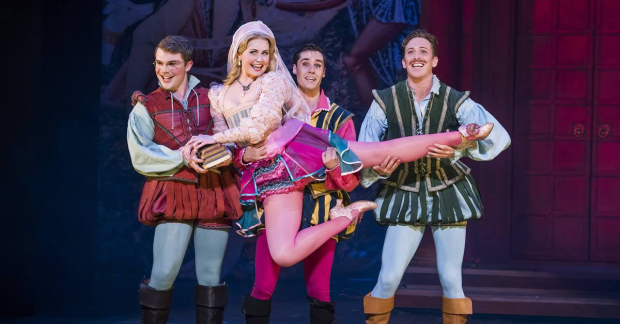 Is Kiss Me, Kate the perfect Broadway musical of its era? Faced with a production such as Opera North's which matches its precision, flair, energy, imagination and sheer intelligence, it's difficult to argue against the proposition.
For a start it's firmly rooted in a strong story-line – or, rather, two. The celebrated theatrical married couple, Alfred Lunt and Lynn Fontanne, had famously toured The Taming of the Shrew whilst bickering almost as much as Petruchio and Katherine. From this initial inspiration Sam and Bella Spewack presented Cole Porter with a book that ingeniously blends the Shakespearian play with the story of Fred Graham and Lilli Vanessi, divorced, still squabbling and, quite possibly, still in love.
On this base Cole Porter built an astonishing collection of wonderful songs, ranging from operetta to swing, sardonically witty to romantically emotional, with no duds, all properly rooted in the storyline or situation. Finally, the music was put in the hands of the master-orchestrator Robert Russell Bennett, with assistance from Don Walker, for a score of rich contrasts.
This fluidity of style is faultlessly captured in Jo Davies' 2015 production, now stylishly revived by Ed Goggin and scheduled for ten days at London's Coliseum. Colin Richmond's sets move from medieval tapestries to bleak backstage stairs without missing a beat – and, in fact, several of the best numbers are played before the front cloth. The Opera North Orchestra has the extra string power to boost the more operatic numbers, but under James Holmes displays all the Broadway pizzazz you could hope for – in the overture there are even hints of Billy May-style slurping saxes.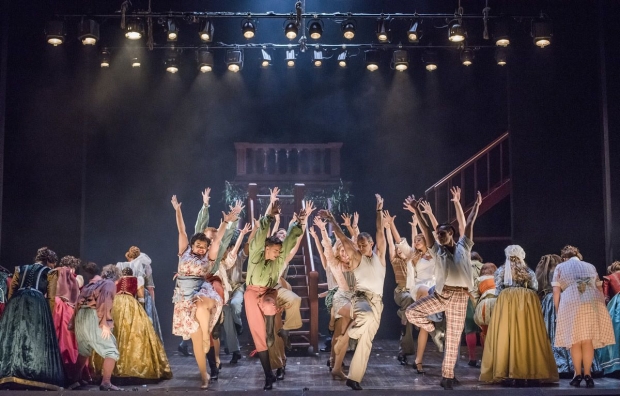 So what is there to enjoy? Well, everything. "Another Op'nin, Another Show" features (not for the last time) the spectacularly energetic choreography of Will Tuckett (revived by David James Hulston) and the glorious vocal attack of Aiesha Pease as Hattie, Lilli's dresser. Both dressers give superb performances: Stephane Anelli (Paul, Fred's dresser) has his stop-the-show moment in the second act opener, "Too Darn Hot". Even in the first number individual characters emerge in the ensemble, with Claire Pascoe's bossy Stage Manager a delight.
Zoe Rainey (Lois Lane) and Alan Burkitt (Bill Calhoun) are lively and appealing as the "second couple" and seize their opportunities on their big numbers, Lois' "Always True to You in my Fashion" wittily suggestive and endlessly inventive and Burkitt tapping up a storm on Bianca. And that ineffable duo, Joseph Shovelton and John Savournin, return as the stage-struck gangsters, with even more business on "Brush up your Shakespeare".
The only other returning principal is the admirable Quirijn de Lang who preens with self-conscious vanity without going over the top as Fred/Petruchio and displays a mischievous sense of humour alongside a rich baritone voice which makes the most of the pseudo-Shakespearian numbers such as "Were Thine that Special Face" and "Where is the Life that Late I Led?" Stephanie Corley (Lilli/Kate) matches him perfectly, the mischief along with the temper, the coloratura used for comic effect as much as with serious intent.
It's very difficult to compress all the delights of Kiss Me, Kate into a short review. Perhaps the details are what matters most: from James Hayes' amiably bumbling Harry Trevor mooching across a chorus line deep in his script, to Porter and Bennett's frequent use in linking passages of "Why Can't You Behave?", perhaps the most evocative number of a delicious score.